The Fitness Apparel Trends That Women Must Know About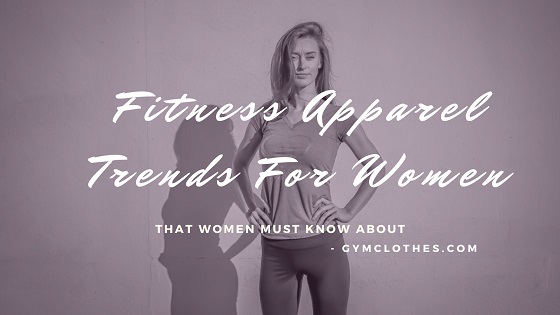 To receive the amazing benefits from consistent regular movement and muscle-strengthening activities, the women fitness freaks should also dress up practically. If you wear ill-fitted or improperly styled activewear items that restrict body movement and also don't wick sweat and moisture, you will not be able to get flexibility for the different exercises and end up feeling uncomfortable. You can assure yourself the health benefits from different fitness styles only when you are agile and steady to move with ease.
This year, the leading wholesale workout clothing manufacturers have introduced the most contemporary, functional and stylish activewear trends. Here is a look at them.
Wearable Technology
The trend of wearable technology is a wonderful news for the fitness freaks as it tracks your steps, heart rate, temperature and other fitness criteria, and is the best fusion of functionality and fashion. These fitness trackers attached to clothes help the wearers to know exactly how their body is responding to various types of exercise, and where they need to push harder.
The Futuristic Printed Pants
The super-hot futuristic tech printed leggings are on the top of the style charts for women today. The tights and pants with funky computerized and digitally printed motifs are influenced by technology and fun to style. The plain background is used to mix and match the contrasting dark and light hues.
Bold And Sexy Cuts
The ingenious outfits for fitness fashion genre come in the form of state- of-the-art sexy cuts. Be it the unique collar styles, or preppy sleeve designs, this genre of workout clothing is helping women to experiment and go out of the box.
The Sweatpants Got Smarter
The usual sweatpants have become smarter these days and come with modish twists. The color blocking style and strappy details are making them quite intriguing. They can be worn to the gym or to parties, and are available in a wide range of colors, patterns and styles.
High-Neck Sports Bras
For more support, coverage and better-toned look, women are going for the newly crafted high neck sports bras. They add extra comfort, and also are reminiscent of crop tops or tank tops. Definitely, something interesting for women as churned out by the leading wholesale women gym clothing suppliers.
The Use Of Poly-Dry Technology
The poly dry fabrics are used to produce clothes through a new technology type. These fabrics use a genre of knit microfiber technology that pulls perspiration away from the skin to the surface that evaporates quickly. This keeps wearers fresh and dry.
Thus, be it printed or wholesale blank fitness apparel, make sure to replace the old items of your wardrobe with new ones.
AUDIO VERSION :