5 Kinds Of Exercise Routines That Modern Fitness Clothes Are Adapting To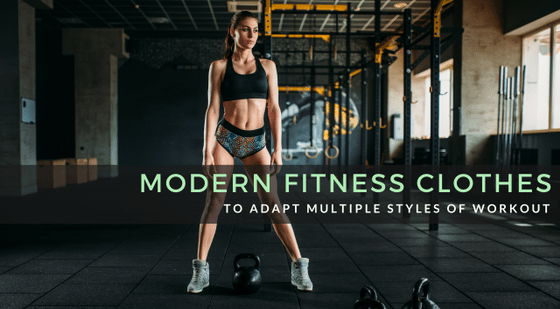 Gym clothes today have come a long way from the regular cotton t shirt and pant that was worn for workouts a few decades ago. Today's gym clothing supplier and manufacturer is trying to adapt to multiple styles of workout and making clothes that will be a 'one quality fit' for all of them. In these developments of fabric engineering and development, this blog looks at 5 of the most popular kind of exercises that are taking over the fitness revolution and how these new age gym clothes fit in with them –
1. Good Old Weight Lifting
Probably the most popular type of workout in the world, weight lifting requires durability, stretch factor, moisture absorption, and quick dry features in its clothes. The exercise pattern boosts heart rates to a maximum by pumping weights and targeting blood flow to specific muscles and subjecting them to wear and tear for further growth. Any retailer buying gym wholesale clothing from reputed manufacturers can fit all of these bills and provide with the best quality weight lifting and body building apparel.
Generally, people wear comfortable synthetic fiber clothes to gym that offer plenty of breathability. It is important for strength training enthusiasts to be able to see their workout muscle groups for better motivation.
2. No Instrument Calisthenics
Calisthenics or free hand exercises promote functional strength, better agility, muscle growth, and better body stability. It provides a good base strength for your body to grow from and can even be taken into the next level with more advanced moves like the human flag and others. Calisthenics exercises need well fitted and tight clothes that will not interfere with their free and unrestricted complicated movements that they execute in bars and poles. Manufacturers and experts believe that compression wear is a great option for free hand workouts and increases performance for the better.
3. Meditative Yoga For Inner And Outer Fitness
Yoga is a calming and meditative workout and focuses the mind, creates rhythmic breathing and helps in stretching and making muscles more flexible. The top wear of yoga clothes should be made of organic fabrics to allow breathability, while the bottom wear should be artificial super strong and stretch fiber made from longer yarns for max durability. Manufacturers of design and blank gym apparel keep all of this in mind while producing yoga clothing that compliments the performance and allows the calming focus of the mind with it's comfort!
4. MMA Workouts
Martial arts for fitness has taken the exercise world by storm as it promotes better conditioning, more agility, increased explosiveness and power, and improved fighting spirit. These exercise routines are mostly carried out bare bodied with synthetic sports shorts that are very absorptive and offer the best quick dry technology. Active wear clothing manufacturers today take time to incorporate all of these qualities into their clothing to ensure that their workout vests and shorts work in the best possible way during such workouts.
5. Cross Fit Routines For Overall Body Fitness
Cross Fit is the one of the most popular fitness exercise routine used around the world and it incorporates workouts from all of the above routines to create an overall fitness status. Th e rigorous tasks of the discipline can and does include anything from running in a circuit to climbing ropes and doing powerlifting exercises. These routines need clothing that can are extremely and can tackle the massive sweat attacks that often hot trainers during workouts.
Today, manufacturers make workout clothing keeping in mind to make it usable for all of these 5 types of exercise routines and even more. In this pursuit, they have advanced in leaps and bounds as far as fabric quality improvement is concerned. So, the next time you are at a sport's retailer looking for some clothes for your workout, there is no need to worry. Most of what you will find there can be used for all kinds of workouts irrespective of the activity list!
AUDIO VERSION :