4 Workout Clothing Features That Your Private Label Brand Must Have!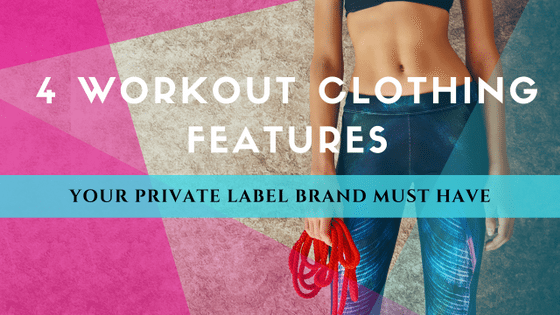 Opening a new business is always a good idea to diversify your income streams and if you have a thing for fitness and athleisure fashion, then that is what you should go for. But, getting the right products is not that easy and there are some qualities that you need to look for, if you are willing to make a good impression on your customers.
However, if you are a new person in the industry, it will not be easy for you to find out these qualities and how to check for them, at least until now! With this blog, you will get to know everything that you need to and why these qualities are important when bulk ordering from wholesale gym clothing suppliers.
1. 4 Way Stretch
Workouts often comprise of complicated movements and while you must train your body to achieve them, but it would also help if your workout clothes were really stretch fit and did not give you any of the movement restrictions that can make it difficult for you achieve a yoga pose or hit a specific group of muscles that need to be trained.
2. Moisture Wick Tech
Moisture is a big part of workouts, especially when it is all about sweating things out. However, it would not be great if all the sweat dries on your body, because not only could that get you fatigued, but also you could catch a cold and miss out on a few days of workout – which is far less than the ideal situation.
But, if you bulk order wholesale blank fitness apparel with hydrolite moisture wick features that will help it to dry off fast using minimum heat, then you don't need to get distracted by sweat and neither do you have to worry about catching the flu.
3. UV Filters
UV filters make up an important part of workout clothes in the modern world, since severe pollution is damaging the ozone layer and unleashing the harmful UV rays of the sun onto your skin. With this kind of tech, you do not need to worry at all about getting out in the open, during the day. Just dab some sun screen on the exposed parts and you are good to go for the day.
4. Ventilated Mesh
Many of the top wholesale workout clothing manufacturers also make clothing that come with a ventilated mesh which has strategically well placed netted openings that allow you to stay cool over time.
These are the 4 qualities that make for great workout apparels and are things that your private label collection must have. Now, you can finally narrow down on your manufacturer with ease!
AUDIO VERSION :