The Top 3 Fitness Clothes Trends Of 2018 You Should Be Aware Of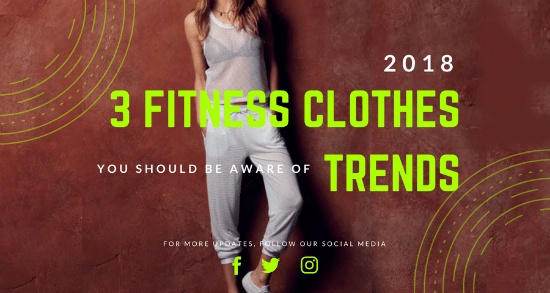 One month down already, and 2018 seems to be ready to make an impact in the fitness-fashion industry. Though many might argue that there is no emergence of new trends and the old ones are being recycled to put forth as new ones; honestly, we don't mind. As long as it fulfills the purpose of enhancing the performance while still looking decent, we all are fine with it. Since new regimes are being included in the bandwagon, it is time to update the clothes accordingly. Keep reading to find out more.
Wearable Tech
When it comes to clothes, wearable tech stands out. No, it definitely doesn't imply that you don't have to wear clothes; it just says that a digital watch with a plethora of functional qualities will enrich our lives. We burn calories even when we are not exercising in particular. Simple day-to-day activities help us burn some fat as well. Keeping a track of it, along with what you eat, how much slept, how much you worked out, an alarm clock and many such features are worth adding. Other wearable techs include heart rate measurer, headphones, armbands and even mobile holders.
Compression Wear
Wholesale fitness clothing manufacturers have used science to design the next gen compression wear. These ones are only better at doing what they are meant to do, compress. When you undertake any physical activity, your muscles have to work extra hard to burn those layers of fat. They can get worked up, lack oxygen (though mostly due to dehydration) and swell post the regime. it can be extremely painful and annoying. To ensure that it doesn't happen, it is important that you wear compression wear. It can be anything from t-shirts to shorts, but that is not the point. In 2018, we will see a surge in the demand for the same garments, because it is always better to be prepared.
Technical Fabrics
Just as compression wear and gadgets will become an integral part of fitness in 2018, so will clothes made of technical fabrics. Technical fabrics are different from the normal ones in their composition. Unlike the regular materials, technical ones can wick double the moisture, become dry fast, allow you to breathe, feel easy and stretch your body with any restrictions. Furthermore, technical fabrics are light in weight and durable. With so much to offer, only a fool will not want to include clothes made of technical fabrics to their wholesale gym clothing collection.
Thus, it can be concluded that 2018 is going to be a big year for the fitness-fashion industry. With much change and tweaks, the trends seem to be interesting; and we all are excited to try them out. Reputed fitness clothing manufacturers have the best of the pieces displayed in their inventory. These garments can be purchased in bulk by the retailers of the same at discounted prices.
AUDIO VERSION :
VIDEO :