Revamp Your Store's Style With Wholesale Gym Clothes Collection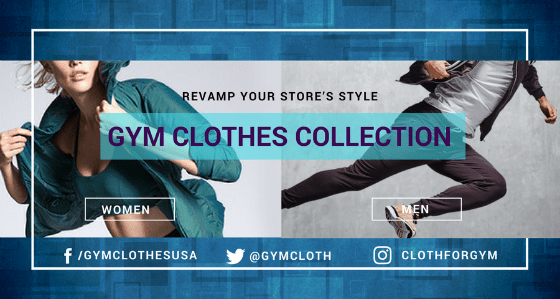 Fashion trends may come and go, but lifestyle trends are here to stay. One such booming way of life for the past few years has been fitness. In the last decade itself, above 30% of the adult US population was suffering from obesity and things weren't getting any better.
However, with the advent of social media platforms like Instagram and Facebook, more and more people are exposed and inspired by fitness enthusiasts, online.
With this came the upsurge of a fit and clean life and people's inclination towards athleisure clothing.
What happened next?
In natural course of events, fashion retailers too stacked up on wholesale gym clothes to entice their target market.
But, when retailers are looking for fitness clothing manufacturers, they have to keep in mind the contingents of bulk quality and bulk affordability.
And this is exactly athleisure manufacturers came in!
With years of experience in manufacturing quality gym wear, the top manufacturing houses are becoming popular. From the finest apparel material for elasticity, comfort, and sweat absorption to following the latest style trends in fitness, they have it all.
Wholesale workout garments manufactured by these units come in a variety of colors, cuts, styles, and trends; what's more, with the best facilities and set-up, they can easily handle all of your wholesale workout clothes bulk orders.
But, what makes these wholesale clothing manufacturers your best choice?
Here's a look –
Customizable
Most of the trends that they introduce for men or women, can be customized into any color combination you would want it in your stores. So, your customers get plenty of options to try new things in vibrant colors, keeping their wardrobes happy!
Variety
Someone rightly said that variety spiced up life!
These manufacturers have options in dry fit, compressions, track pants, hoodies, sleeveless, joggers, and many more. Once you bulk up with manufactured gym wear, your retail shop will be the hub for old school track wearers to new age joggers, alike!
Start Your Private Label
With workout stations and fitness studios popping up in almost every street corner, the demand for workout clothing is fast multiplying. For anyone who is looking to ride the growth, this is just the perfect time for them to start their own high-quality fitness label.
But how will you manage the massive demand?
Don't worry, they have that covered for you. Bulk manufactured fitness wear wholesale apparels will give your clients quality and affordability at the same time; thus upping their trust in your brand!
So, what are still waiting for? Check latest collections of fitness clothing of a top manufacturer and get in touch for your bulk orders NOW!
AUDIO VERSION :
Product Catalogue Video: