The Serious Mistakes You Are Making With Your Activewear Regularly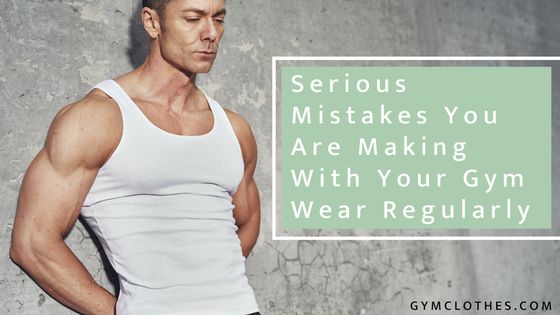 Do you love going to gym classes and yoga sessions? If you do, then there are certain duties you have towards your activewear items as well. From buying the correct outfits to maintaining them properly, and definitely being thorough with the right ways to style them up, you are supposed to be perfect while dealing with your workout clothes and accessories. They are different from your usual clothes and require extra and special maintenance every day.
Today, due to the high-end comfort that workout clothes offer, most of the men and women find themselves clad in activewear items more. While stretchable leggings are replacing the stiff denim pants, underwire bras are discarded due to the relaxation that sports bras offer. Thus, if you all fall in this category of fitness fashion aficionado, there are some mistakes that must be dodged in everyday life, while handling clothes crafted by activewear clothing manufacturers.
Not Washing Sweaty Activewear Items
We often tend to lounge around in the sweaty workout clothes after gym sessions, due to the comfort they deliver. But this is one of the major mistakes that we are making with our expensive activewear items produced by the leading wholesale athletic apparel distributors. You might lay down on the sofa in them, or simply go off for running errands, but this is too much. If you want to keep your fitness clothes fresh and safeguard their quality, you need to wash them at the soonest after sweaty workout sessions. This will ensure the removal of germs and oils that get trapped inside the clothing fibers and won't give way to skin rashes or body acne.
Using Extra Washing Detergent
While cleaning the workout clothes, crafted by wholesale blank fitness apparel manufacturers, do you end up using a lot of washing detergents? This is a horrendous mistake that you could be making! Too much of laundry detergent used can leave excessive residue and traps in smells inside the clothing fibers. Thus, they sweaty and stinky clothes remain like before even after washing them. Actually, over usage of harsh chemicals can only destroy the quality of the workout clothing fabrics.
Putting The Activewear Items In The Tumble Dryer
Did you know that your gym or yoga clothes are made from fine and superior quality technical fabrics and shouldn't be put into the tumble dryer? To make sure that the features like sweat-wicking and multi-way stretch are looked after and taken care of, you need to be cautious while drying them. A tumble dryer can only spoil their features and shape. Materials like lycra, spandex or polyester become brittle and broken when you use the tumble dryer to dry them from excessive sweat or moisture. Thus, it is better to wash them in cool water and sun dry them to increase their longevity.
Buying Gym Clothes From Non-Specialists
Do you love to shop for your gym clothes from a non-specialist retail store? You should change this habit and go for fitness clothing retailers or private label brand only. The usual fashion retailers might offer you activewear at low prices by their quality would be the best. They prioritize on appearance over performance and hence you should indulge in shopping from the best workout clothing retailers or clothing brands. A specialist will always get its products from a good gym clothes manufacturer, who would always use premium materials which feature advanced technology to enhance your performance and also increase the life expectancy of the clothes.
Conclusion: The mistakes while handling the gym clothes must be avoided by the fitness fashion enthusiasts so that they can wear the correct clothes, bought from the best place and also maintain them for a longer time.
AUDIO VERSION :