Sportswear Trends That Retailers Need To Look Out For This Year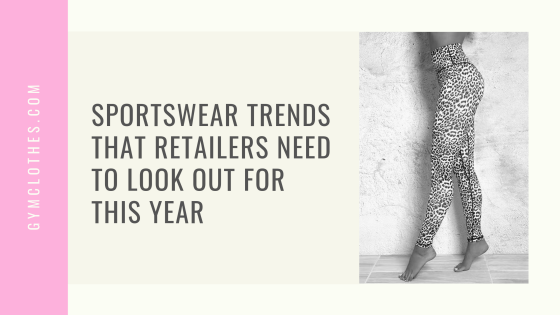 Activewear tends to go through a series of transformation and changes just like couture clothing. Therefore, 2019 has nonetheless been an iconic year for the fitness fashion scene. Manufacturers of wholesale sportswear has come up with a unique clothing collection you cannot afford to miss.
The fitness clothing trend not only boasts of quality certified raw material but style as well. Thus, read on the blog below to know more about the same.
Leopard Print
It's not surprising that animal print has started to dominate the fitness fashion scene as well. In fact, not just leopard but animals like tiger and zebra has come up to be successful contenders in the print game as well.
Therefore, if you'd like to make a statement with your clothing, it will be advisable to opt for one of these trendy animal prints. For those who like to keep it low-key you can always start off with a trendy sports bra or even cycling shorts.
Strappy Details
Sports bras are no more characterized by old school detailing. You can imbibe some Coachella vibe with the help of a strappy detailed sports bra. Gone are the days when sports underwear used to be boring . Now the real appeal lies in what you wear on the inside. Hence, it is important that you invest in such pieces that are appealing as well.
Opt for such bras that has unique strappy detailing and across the back which makes it versatile to be worn with casual clothing as well.
Ballerina Inspired Clothing
Pastel colored leggings and tutus have entered the mainstream fitness wear scene. You can find a range of sportswear that are inspired by the ballerina aesthetic. Hence, be it in the form of cropped compression leggings in dreamy floral tones or even jackets with lace detailing along the hemline.
The latest collection won't disappoint you with its appeal as well as quality.
Khaki
Khaki colored outfits are in vogue in the mainstream fashion scenario . Hence, no wonder owing to the increasing demands, the fitness fashion scene has incorporated the similar vibe into their collection.
This unique earthy tone is highly appealing in nature and works well with other types of clothing for its versatility value as well.
Business owners who want to include activewear wholesale in their store can get in touch with one of the popular fitness clothing manufacturers in the industry. All you need to do is have a look through the large collection of clothing and state the bulk needs accordingly to the help team.
Recommended Read : Why Custom Sportswear Is Important For Your Retail Store!