Why Custom Sportswear Is Important For Your Retail Store!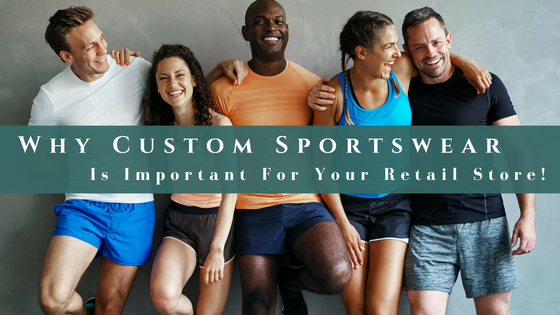 Fitness wear is an integral part of any clothing apparel shop and with the advent of athleisure has made it one of the most profitable too. However, wherever there is more demand, there is also more supply and that brings more competition – so how does a retail clothing shop owner get the edge?
With the help of custom sportswear of course. It is next to impossible for manufacturers to come up designs so unique that the hundreds of retailers that buy from them each have different racks of athletic clothing. This is why the top ones actually advocate custom clothing.
How Does Custom Manufacturing Help?
It allows the retailer to suggest designs to the manufacturer who then makes it implementable for their bulk orders. This basically means that as a retail clothing shop owner, you can finally have your creativity reflect on your collections. Want to know what advantages it holds for you? Read on –
1. You Can Forge It From Experience
As a storekeeper, you are bound to have certain ideas of what your customers like and what they don't. Therefore, you get the option to give your manufacturer design suggestions that are inclined towards success and increase your chances of better sales – something that every shopkeeper wants for themselves.
2. Follow The Latest Trends
In the world of clothing apparel, trends are the most reliable things to follow and it will allow your collection to stand out way more than your contemporaries, who are probably going to stick to what worked for them – which is very well past in the world of fashion.
It will be no surprise if you see more people flocking to your athleisure shop and get themselves a new wholesale workout clothing wardrobe!
3. Implement Popular Culture
Popular culture is always admirable in clothing and that is what you can implement in your clothing collection to make it more attractive for your customers. Everything from movie designs to cartoon characters can be added to these custom designs to appeal to the various niche tastes of the audiences. Also, it gives you an edge, because popular culture is always about maximum relevance and most people like to maintain this conformist view!
These are the 3 reasons why custom fitness wear is so important and how it can in fact maximize your profit. If you use it wisely enough, there is a lot that you can do with it – because custom clothing gives you a freedom in design, finally setting the reins in your hand. Now all you need to initiate your success is the right sportswear manufacturer!
AUDIO VERSION :