5 Ways To Differentiate Your Workout Clothes Than The Rest!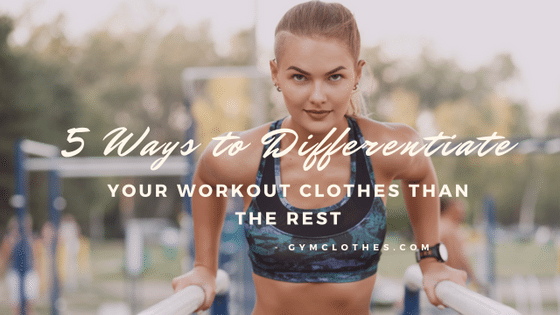 For anyone leading a healthy life, workout must be an integral part of their daily routine to keep themselves fit over time. However, with the rise of athleisure fashion in the gym, most of the folks look like they are wearing the same outfit over time. And of course, no one likes that. Everyone wants to look different and stand out, no matter where they are. So, let's take a look at the 5 ways that this blog has put together to look different while working out this summer –
1. Try A Bit Of Layering
When you get wholesale blank fitness apparel from your retailer, make sure to get your hands on some of the layering athleisure clothes like shrugs, mesh jackets, and the likes. It will give you better traction and make you look a lot different and more style oriented that other people. If that is not a perk at the gym, then we do not know what is!
2. Stand Out With Shoes
The thing about gym clothing is, with so many people around trying to get the same kind of clothes, it is hard to really stand out amongst them. But, when you cannot wear very different top and bottom wear, you need to stand out with footwear. Try to go for white soles and more colors overall, and then you can really take a different fashion approach to your next workouts.
3. Stay Away From Neutrals
In most cases, people like to stick to neutral and light colors when it comes to their workout wear, but today things have changed far beyond that. Wholesale gym clothes manufacturers have improved a lot ever since and now they are playing with a lot of colors and you should try them too. Try neon and fluorescent shades for your workout wardrobe and you can really stand out in the gym, while you are sweating it out.
4. Try Compression
To be honest, compression is probably one of the most important gym clothes you can have and that is what should make it not so unique. However, that is not the case and compression clothes are far from that. On your visits to the gym, you might only see seasoned athletes wearing this unibody clothing – and you too can stand out with them. In fact, compression wear is quite stylish with different sports stripes and designs that are good enough to be called the best in workout clothing – and if an apparel gives you functional use and style in one go, you should not ignore it at all!
5. Private Label Clothing?
Sometimes to stand out, you have to pay the price and that is exactly what private label clothing is! It might come a little bit costlier than regular retail gym clothes, but private label wholesale workout clothing is made by manufacturers simply because people who want to get them have a certain niche for style – and that is definitely good news.
These are the 5 ways in which you could stand out amongst the entire gym crowd with your clothing. Not only will it make you look better, but also feel better and more motivated, because you are not just a face in the crowd. So, what are you waiting for? Follow these tips the next time you go workout clothes shopping and make a difference in your lives fitness sphere!
AUDIO VERSION :