Athleisure Trends To Pick Up from Your Gym Clothing Manufacturer!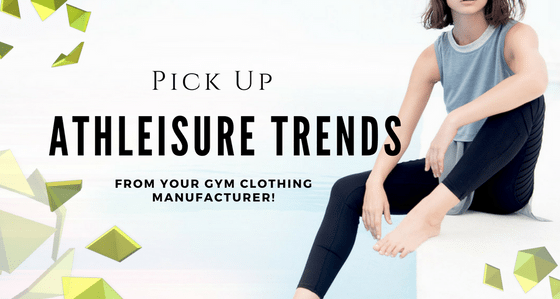 Athleisure right now is the high and mighty of youth fashion and it doesn't look like it is going to slow down any time soon. Therefore, as a sports wear retailer, if you do want to capitalize on the situation, it will be best for you to pick up the trendiest orders to resonate with the young audience.
But what if you aren't a regular on the internet athleisure forums? Because, these trends don't normally and regularly appear on fashion magazine covers! However, you don't need to lose heart, there is a trusted way out. You could check the catalogs of the best gym clothing manufacturers and get a good idea of what's in and what's not. Nevertheless, this blog lists out a few just to save you some of your precious time because running a business isn't easy!
1. Full Zip Sweatshirts
Sweatshirts are cool. They look fashionable, aren't two heavy on the skin and can be worn during any season. Also, full zip sweatshirts are very flexible from a fashion point of view and can be easily paired with any of your tee shirts. If you have one in your racks which is of a basic dark color like black or navy blue, you are good to go. Your sweatshirt will become a staple for all those who like to dress casual and get an edge with a cool yet simple jacket for the perfect day look.
2. Patched Hooded Sweatshirt
A retailer's must-have from gym wear manufacturers, this one will create ripples amongst fans of cult movies like Rocky and Creed. The epic scenes of both the protagonists going for their morning run, wearing a patched hooded sweatshirt, is an unforgettable moment for boxing fans who have watched the movies time and again.
Be sure to have this sweatshirt in grey to make it a direct reference to that awesome moment. This is one of those athleisure apparels that can transform your retail shop's sales figures downside up and make your business run on wheels!
3. Zipper Design Sports Bra
Women's workout regimes have changed big time, thanks to yoga and workout videos by celebrities who like to flaunt their bodies in sports bra and yoga pants or leggings. Now every girl who has a flattering body, believes in making it look the sexiest with the same dress code of choice, throughout gyms across the country.
Zipper design sports bras are a welcome addition to this trend and offer much better ergonomic support compared to regular sports bra. Plus, these types of bras also come in different colors and coverage designs, making it in a necessary inclusion in your women's retail line up.
Now that you have a fair idea of what to get from fitness clothing manufacturers to give your sportswear retail shop a complete revamp, what are you waiting for? Get your orders in from their catalog products today!
AUDIO VERSION :
VIDEO :