Why Private Label Brand Owners Make More Money Than Retailers?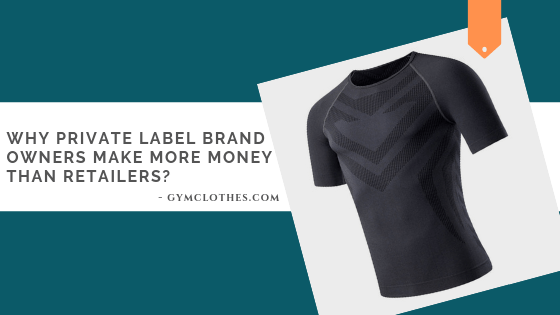 As a sports and fitness apparel retailer, have you come to notice how private label brand owners make more money? Now, you might feel a little bad because of it, but there is a reason why it works so well for them.
In essence, the private label business has many things in common with regular retail. However, one is often financially more rewarded than the other. Why?
Well, we figured you would want answers to your question. That is why we have come up with the top reasons why private label sportswear brands make more money. Let's take a look –
1. Creativity Is Always Rewarded
One of the main reasons of the distinction between the two forms of sports and fitness apparel sales, is also the cutting edge for private label. As far as retailers are concerned, their business model is based on buying at wholesale rates in bulk and selling at retail prices.
On the other hand, private label brands most customize each of their products with their design ideas. The top private label clothing manufacturers USA help them with their customized services to achieve top level quality.
It is because of this implementation of personal creativity that it becomes so much more valuable, bringing in more cash for the business.
2. The Quality Matters
Most private label clothing manufacturers Canada have higher bulk order prices for their private label collection, simply because of the top level quality they bring. Since only the financially well off are generally interested in private label clothing, it is dependent on good quality.
Retailers on the other hand always settle for mediocre quality and amateur manufacturers which in turn affect their business drastically.
If they too stop compromising on the quality of clothes they have in their store, things will start to look a lot different!
3. Uniqueness Is Key
How would you feel if you knew that all the things you have in your wardrobe are also owned by 100 other people around you? Not pretty good, right? That's the thing, people want unique things if they can pay for it.
In the case of private label clothing, that is exactly what works. Uniqueness is key for the customers and they are ready to pay a better price to the brand owner.
Limited edition is not a new concept and has always been an asset to flaunt around for most people.
Now that you have a clear idea of why private label clothing manufacturers Australia are helping brands make better earnings, you two can venture that way. While retail businesses are all well and good, private label clothing will be a refreshing change of pace.
Also, it will be something you will have complete creative and financial liberty over. If you ask us, it is definitely worth a try!