Why Gym Shorts Are The Next Big Thing In The Athleisure Clothing Scene?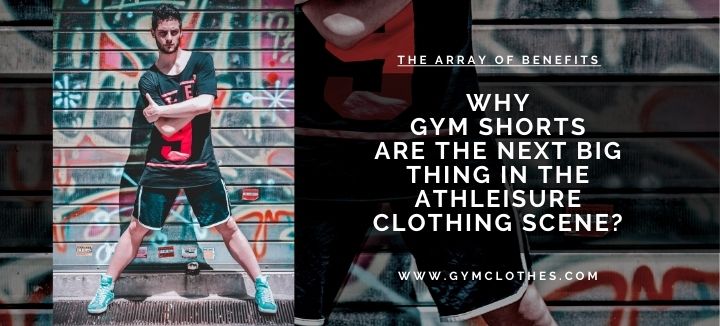 Whenever the sun rises high up in the sky and the air smells of fresh flowers and slushies, you know it's time to take the shorts out. Summer workout clothing is never complete without a pair of gym shorts and most men and women own at least one pair that they are super close to. Whether you want to show off your developing leg muscles or simply want to stick to short pants to stay comfortable during the hot weather workout routine, the modern gym shorts have increasingly grown in prominence due to the array of benefits that it has to offer. Business owners dealing in athleisure clothing loves stocking up on gym shorts of every color, fabric, design and more- the catch is you need to find one of the best wholesale gym shorts manufacturers.
What are the best-selling fashionable gym shorts?
The modern fitness loving customers are essentially looking for such gym shorts that are super appealing. They don't want to run on the treadmill looking like a total bore at the gym. Instead the young millennial and even the Gen Z folks, ensure that their clothing is a part of their personality and it expresses who they are, even while they are covering 15 kilometers of tracks! In the men's clothing department the campo print is huge. You can also find gym shorts with stripes. For women you can look up to earthy pastel hues like dirty blue, sage or even muted mustard floral prints that will be perfect for the tanned summer body.
How to determine the suitable fabric for gym shorts?
Customers are always looking for what's new. Therefore, steer away from the cotton shorts and instead look for such gym shorts that are manufactured with an artificially modified fabric like polypropylene, lycra, etc. These are not only comfortable but can be customized as well.
What are the best trending prints and add-ons in gym shorts?
The modern active wear prints are all about the retro style but with a twist. For example, twisted geometric patterns are great! Vintage psychedelics have become important as well. You can also find shorts that exude tropical brightness with its amazing flora inspired designs. Animal prints and comic inspired patterns have also become a sought after style amongst the young fitness lovers.
For the add-ons mesh has again taken the center stage. This accent is popular for all the right reasons. The mesh patches not only add a great appeal to the shorts but increases the breathability as well. A plus point for the summer fitness routine, indeed!
Are there any color preferences that customers are going gaga over?
The usual neutral hues of black, browns and blues have remained a classic and have observed a steady sell-out. In case of the trendy colors, pastels and pop neons and bold colors are just selling like hot cakes. You can find gym shorts with glow in the dark designs as well which is great for working out at night. Hey business owners stock up on tangerine, oxblood, lime green, nude hues; these are some of the best colors to make your customers go crazy.
What are the key functional features of gym shorts?
Popular manufacturers are designing an array of gym shorts that are incorporated with amazing functionality features. As mentioned earlier moisture wicking fabric is in popular demands because these really wick away the sweat from the body and keeps the wearer comfortable and dry. Apart from that seamless designs are great especially for the high intensity workout routine and even plus size fitness lovers swear by it. Compression shorts are gaining momentum as well as these help to protect the muscles from cramps and post workout trauma.
What are the hottest trends in the gym shorts scene?
This is the best time for business owners to offer innovative and stylish gym shorts to the customers. If you are looking for the latest trends, then there is an array of styles to choose from. The lace up gym shorts have become super popular thanks to Rihanna, apart from that Luxe cut out details are super unique and women would love to flaunt their toned legs in the gym. For the colors sophisticated neutrals have taken the Centre stage. Think about all the versatile colors but upgraded.
So, what are you waiting for? If you are interested in offering your beloved customers a premium collection of gym shorts, then make sure to check the online store of a popular shorts manufacturer. The catalog consists of amazing stylish shorts that are designed with performance features as well.