Why Gym Clothes Manufacturers Are Making Innovative Bounds For Apparel Production?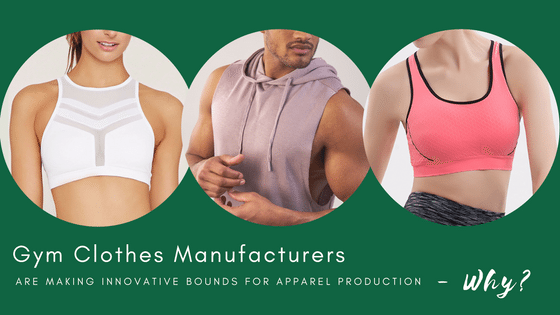 Gym and fitness clothing manufacturing companies are always on the lookout to develop new ways of making workout apparels worth it. However, many people and retailers believe that the existing technology is sufficient to sell the products and enhance performance of athletes.
So, what is it about these manufacturers that they do not seem to like rest at all – and are on a constant journey chasing perfection in wholesale workout clothes. Want to find out? Let's take a look –
1. Because The Better Performance Gets Better Deals
Every manufacturer wants the best deals for their sports clothing line and that is no different with the development of technology. This is one of the main reasons why these producers of fitness fashion have entire design teams on line and work tirelessly through research to make sure that new things can be implemented. That will only lead to these wholesaler and manufacturing companies to get the best deals and even the chance to tie up with other sporting events – which will always be good marketing on their part!
2. Associating With National And International Events
When custom gym wear manufacturers do well with their production of athletic clothing, they have a fair chance of getting in touch with and serving national and international sporting events. Whether it be on the district level or on a state level, these sporting events are viewed by large audiences over different mediums and that makes for a great way to represent their excellence in sports clothing manufacturing.
Imagine if a manufacturer made the best quality of baseball jerseys and got to sponsor the clothes of a famous team – would it not the greatest marketing opportunity ever.
3. The Chance For Official Merchandising
Another reason why manufacturers pay so much attention to the implementation of new tech is because it might land them with the opportunity of official merchandising. Once such a chance presents itself, it also drastically improves the preexisting customer base, because fans of the show, cartoon, or game will already want to get their collection.
If custom gym wear manufacturers make clothing that stands by whatever their collection needs to cover, then they can make a lot out of bulk sales out of that.
These are the 3 reasons why wholesale yoga clothing manufacturers are always working to make sure that their products are at the very top of sports technology. The best fitness clothing manufacturer will have an extensive R & D department that will get all this going towards the right goal!