5 Secrets About Athletic Clothes That Manufacturers Won't Tell You!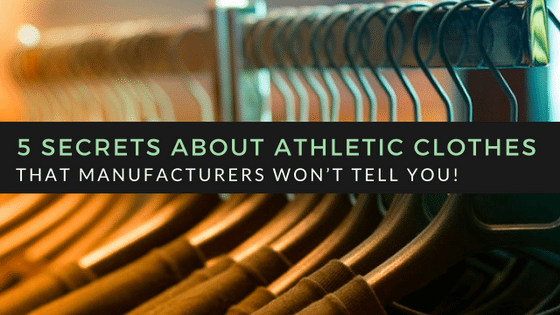 The top athletic apparel manufacturers have redefined fitness wear like never before and the reason is their trade secrets that these companies don't like to share with anyone. But this blog reveals the inside scoop of top sportswear manufacturing companies and what separates their garments from the rest of the lot you get with regular manufacturers.
Even if you aren't a retailer or distributor, this one thing is definitely going to interest you from a fitness enthusiast or aspirant point of view. Let's take a look at what makes these companies so good at their jobs where others are struggling –
1. These Companies Have Experienced Clothing Designers
If you thought bulk manufacturers don't think about fashion, then you could not be more wrong. In fact, these producers are so fashion savvy that they have designers ideating the colors, patterns, and cut of each of their products. These products are then sewn, dyed, and manufactured in an extremely pedantic process to ensure that there is maximum representation of fashion from the virtual to the real.
2. Best In Class Manufacturing Facilities Spread All Over The Globe
For people who think that top manufacturers have one or two production facilities, it's far from the truth. These athletic clothing manufacturers have set up manufacturing facilities all over the globe wherever they have a thriving market for their business, thus making greater chances of profit. This is one of the main reasons why these manufacturers allow heavy discounts on delivery – because they don't need to travel as much as you think.
3. Yarn Blending And Fabric Engineering
In order to increase the functionality of their clothes, top manufacturers take the help of experts in order to engineer new blends of fabrics that serve the purpose of fitness better than the ones that are already available. This process is a rather tricky one and needs a lot of research and development, since it has to create better comfort and skin friendliness along with stretch ability, better performance, etc.
4. Multiple Subsidiaries
Most of the top brands have multiple streams of subsidiary companies leading up to the big ocean. This is a business strategy to create different income streams and benefit the company in general. However, all of these subsidiaries are managed with different names and administered by the same company to ensure the best quality of work no matter what name retailers or suppliers are buying it from.
5. Multiple Levels Of Product Checking And Testing
When a manufacturer wants to reach the very peak of the industry, it must encourage the best quality of production and put in multiple checking levels to ensure the chances of error or complaints from its clients. Often, these checking procedures could be conducted in different facilities altogether to reduce the margin of human error. Many of the best athletic wear manufacturers even install technological checks to eliminate the error factor at all; although these are rather expensive methods nonetheless.
The cat's out of the bag and the elephant in the room has finally been addressed. Now, being a fitness enthusiast or a retailer/distributor/supplier, you know how it so happens that you get the best quality products every time. A lot of effort is put into the process to make sure that what reaches consumers is only from the top echelons, thus securing a longer and more fruitful partnership between them and you!
AUDIO VERSION :