Wear A Tank Tops Outside The Gym – 5 Ensembles For Reference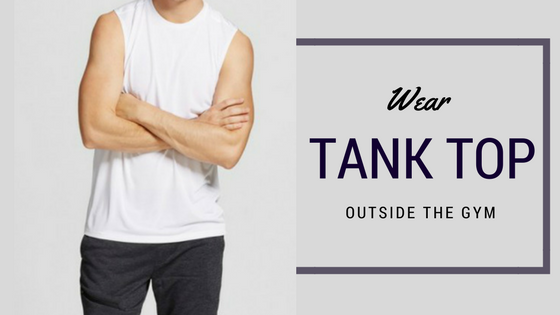 Tank tops have become a staple in the gym. And why not? They offer a plethora of functional qualities which really help boost the performance. However, many times, we ignore the versatile approach of a tank top, limiting their vast use only to the gym. But now it's high time we break through this chain of ignorance and use a tank top to its full potential. All you need is a reference to wear a tank top outside the gym. Here are a few ensembles listed only for you. Keep reading to find out more.
Nothing can beat a sexy combination of an all-black tank top and mini leather skirt. The combination is sultry and ideal for a night out with friends. Rather than opting for bright colors, stick to all black to create an enigmatic appeal. Complete the appearance with a pair of heels.
Very bohemian in its appeal, a white tank top paired with denim shorts and a colorful kimono jacket is ideal for a hot summer day. Wear a pair of sandals to continue the boho theme. You can also add junk jewelry for that extra dose of quirkiness. Manufacturers of wholesale fitness tank tops have white versions displayed in their inventory.
A tank top and a pair of leggings are your typical going to the gym appearance. However, to break the gym monotony, you can experiment with the colors and textures. A black tank top with a funny slogan written on it teamed with a pair of red leggings looks hot and classy. Use a pair of ankle length boots to give a stunning finish to the otherwise simple ensemble.
A white tank top worn in an all-white outfit for a conventional set-up is sophisticated and definitely different. Tuck the tank top in the trousers and throw over a structured blazer on top to give the guise an endearing boost. A pair of pumps in a neutral shade will complete the ensemble with unmatched panache. Use simple accessories like a clutch and earrings to further boost the formal attire.
Most tank tops available with top fitness tank tops manufacturer are designed to endure intense workout sessions. This means that tank tops are ideal for hot summer days. Team it with a printed maxi skirt and a pair of pumps to boost the appearance. Keep the rest of the outfit simple to win stand out in the crowd.
Thus, with all the versatility of a tank top, you can definitely wear it outside the gym and gain the attention of the onlookers. Women's and men's workout tank tops wholesale manufacturers have incorporated a wide range of shades and textures to the pieces for that extra dose of style. Retailers, who are interested to make a bulk purchase, can register online with the manufacturers. Special offers and discounts are available for bulk buyers.
AUDIO VERSION :