Trendy Outfit Ideas To Carry Your Men's Track Pants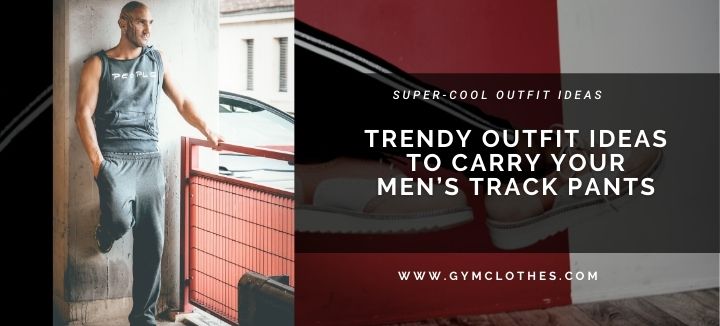 This modern style of sweatpants made with a lightweight and stretchy fabric is the new cool athleisure outfit for athletic men. For a smart-casual look, try pairing your gym wear track pants with these outfits that have been listed. If you are business owner hoping to expand your activewear collection, collaborate with a top-notch activewear supplier, whose expansive catalog includes tank tops, tracksuit wholesale, track pants, yoga leggings etc.
With T-shirt
Track pants and t-shirts are a timeless combination that creates an effortless casual look for running or for working from home. If you focus on fit and quality and invest in high-quality basic tees and track pants, you are sure to look more sophisticated than sloppy.
With Denim Jacket
Pairing your track pants with trendy denim jackets can make a perfect weekend outfit for you. A classic white tee beneath your denim jacket is a superb choice for exhibiting a clean and elegant look. Go with a modern slim-fit tee to balance out the track pant's tapered leg to show off your athletic built.
With Sweatshirt
This athleisure outfit combination is all about looking modern. A pair of joggers and a hoodie or crewneck sweatshirt on top of your track pants can complement your athletic charm superbly. Choose a matching tracksuit for an even more fitness-addict look.
With Button-downs
A button-down and track pant outfit is awesome for working from home purpose. You can select a casual button-down like chambray shirt, oxford or flannel. On weekends, you can wear a t-shirt under it and keep the shirt unbuttoned for utmost comfort.
Are track pants the same as sweatpants?
Sweat pants crafted with a heavyweight cotton fabric serves as a bulky loungewear that imparts comfort and warmth. Unlike these, track pants are made of lightweight cotton fabric or performance fabric like polyester to wick moisture effectively and keep you cool.
What shoes to wear with your track pants?
Due to track pants emerging as a splendid athleisure wear, sneakers is a safe footwear choice to match with it. You can even go sock-less in a pair of boat shoes or loafers to create a smart and semi-casual look. It is usually hard to pull off joggers with formal shoes but if you can execute it correctly, a bit of European feel is sure to be added to your visual display.
The right match with your track pants can enhance your manly appeal while retaining the sporty look. As a private label business owner, you must connect with a high-rated fitness apparel manufacturer to add a sumptuous variety to your private label gym clothes.