The Hottest Leggings Trends For This Year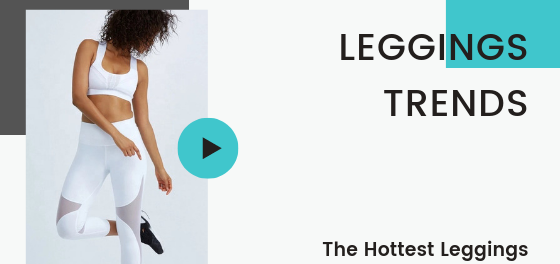 The popularity of leggings have been bolstered by their use by some of the most popular celebrities and style icons of times including the likes of Kendall Jenner to Bella Hadid, who have made mastered the art of wearing leggings and making casual look chic. For this year, the micro trends are set to receive immense hype for the second year running.
Here are some of the hottest leggings trends for this year:-
7/8 Length
The hottest trend for women's leggings is set to be the 7/8 length leggings. Something that can worn effortlessly from the studio to the street will continue to be the major trend just like the last year. These leggings which are in huge demand as fitness leggings wholesale hit just above the ankle and make a great pair with sneakers or slides. The 7/8 is expected to be one of the most prevalent silhouettes since it's the perfect road between full length and capri, making it perfect for any time of year or any workout.
Higher Waists
The trend of higher-waisted leggings is all set to continue in this year too with more use of compression fabrics to help sculpt the body. Neon colors in higher-waisted leggings are also expected to very popular during summer. These leggings have both functionality and comfort making them convenient enough to be worn at the gym which explains their demand as wholesale workout leggings.
Perforations
Perforations are expected to be a major trend for leggings in this year as manufacturers are looking to expand their use of empty space by focusing on perforations. Perforations are expected to be a hit because the tiny holes add a subtle but stylish detail that gives the design a little something extra, which is a great way to stand out if you want to avoid loud colors or patterns.
Leather
Leather leggings have a huge fan following because they provide the best means to pull off a full-on glamour look with top off sleek leather leggings with an oversized fur coat or stole. They also have high functional and fashion quotient to serve as a great option for work wear.
Prints
Printed leggings have been an all-time favorite now with the trend all set to continue into this year with Celestial-themed prints leading the way. They are high on the glamour quotient and add a fun touch to leggings. Bright and bold printed leggings can effectively make anyone stand out from the crowd and are expected to be a dominant category in athletic leggings wholesale.
Striking Colors
Neon orange leggings and bold, shiny reds and bright blues are some of the most striking colors that are expected to be trending all through 2019 and in-demand as bulk leggings.
Recommended Read : How To Manage Your Leggings Collection For Maximum Style?