Start Your Very Own Athletic Clothing Line Faultlessly With These 4 Steps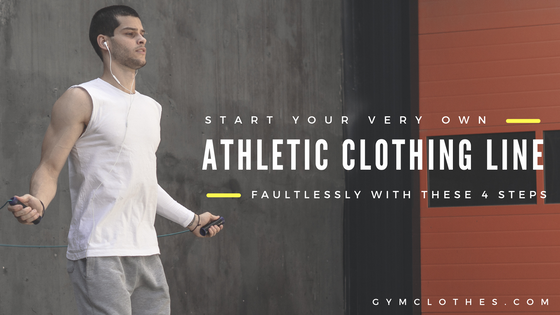 If you are a promising young entrepreneur and you wish to start your very own athletic clothing line with sure shot success, here are 4 impactful steps that you must enlighten yourself with at the earliest…
Your product focus –
As an absolute beginner, it is almost impossible to start with all types of fitness clothing that currently exists under the sun all at once. Therefore, starting with a short yet relevant selection of products is a good idea, before expanding your venture further in the future. Identifying anywhere from 3 to 5 products in women's and men's categories that are currently in demand should be a thoughtful start; track suits, yoga clothing, compression wear etc being only a few to mention.
Picking the right wholesale athletic clothing manufacturer –
Choosing random wholesale manufacturers of fitness clothes may lead to consequences that are best when avoided. This is because many otherwise self proclaimed 'best' manufacturers these days are neither equipped to offer an extensive scope of design and customization or material / stitching excellence. Therefore, always base your choice on…
The reputation and standing of the manufacturers in the market
Types of clothes they manufacture
Uniqueness and quality of materials they offer
Level of customization you can access with them
Pricing and delivery compatibility
What is your USP – There are thousands of fitness clothing brands and private labels available in the market today. What is it that makes your label better or more relevant than the rest? You will have to find very convincing answers to this question before you launch your products. Things can be easy with a number of custom athletic apparel manufacturers that can help with design innovations, and this can help you massively in creating a USP that prospective customers are bound to get attracted to.
Pricing and Marketplaces –
This can be a very tricky aspect that you got to address with diligence. Your primary aim is to ensure that your products are neither too expensive nor too cheap; either of which will raise doubts in the minds of prospective buyers. Basically, the products need to be priced competitively and in tune with the attributes particular to them. For example, if you have launched high quality bamboo fitness clothing, they cannot be priced at wholesale fitness wear rate or at par with high street brands that range from hundreds to thousands of dollars. Maintaining competitiveness is the key.
Choosing the right marketplaces to sell your products can also determine its success. Selling in well chosen ecommerce marketplaces can help you reach out to the widest range of global buyers while giving you the best shot in terms of profits.