The Latest Trends Of Fashionable Yoga Outfits Worth Checking Out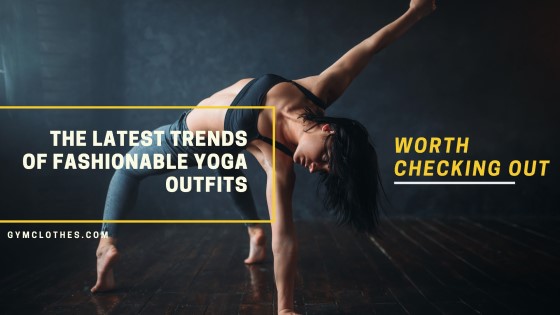 Yoga has been a form of workout which boosts mental health since the dawn of time. People all over the globe have had their little indigenous twist to the form as it started to spread out globally.. Yoga can help you with several health benefits as well which includes the cleansing of your mind in the first place which lets to stay focused on life and helps you rewind and redefine many aspects of this ambiguous presence we call life. It helps your body maintain a healthy blood circulation level and keeps you ever ready to fight with the outside world, both literally and metaphorically. Yoga and regular meditation makes the body strong and immune from the inside which ultimately results in making one to stay fit and healthy. To get the perfect pair of yoga clothes, get in touch with famous yoga clothing manufacturers to get the best designs for your bulk buy.
Check out these latest trends of yoga clothes:
Dance Inspired Yoga Outfits
As mentioned earlier, the whole pattern of yoga exercises has morphed with its regionalization at different places, with new trends popping up everywhere and resurfacing the scene. Such an art form which has majorly influenced the world of yoga is ballet. Today you will find a range of ballet influenced yoga clothes which features interesting yet fashionable geometric contor patterns that will perfectly balance the imbalance of your soul. With these clothes your assets will be accentuated which will make you look good, upping your confidence level.
Try Out The New Asymmetric Designs
Asymmetric designs often look like designs from the future which features a very unique and sharp look. Try out the new designs of asymmetric yoga clothes to look absolutely unique and stunning. Designed by top wholesale sport clothing manufacturers, these clothes will give you the edge with the style quotient and also will add a glowing range to the stocks of retailers looking for these. The new range of these yoga clothes are very comfortable to wear and the perfect stretch material used to make these help you perform your yogic feats like a pro! Jokes apart, these clothes are really breathy and will feel nothing more than a second skin on you.
Bold Colors Never Really Go Out Style
Bold colors for stylish yoga clothes are the best thing to sport if you want to establish a style statement for yourself. Solid colors like blue, orange, green, candy pink, bright red and others work brilliantly with these clothes. The detailed back designs with fashion forward application of prints will definitely let you stand out in the crowd. The soft inner lining will give your body a nice even tone. Even for the yoga pants, the elegant highlight will craft your calf to look well defined and furnished.
Business owners looking for exciting new lines of designer yoga clothes should get in touch with private label apparel manufacturers to get their desired designs and choices of yoga clothes to add to their store's stock.