Healthy And Nutritious Recipe Choices To Lead A Fit Lifestyle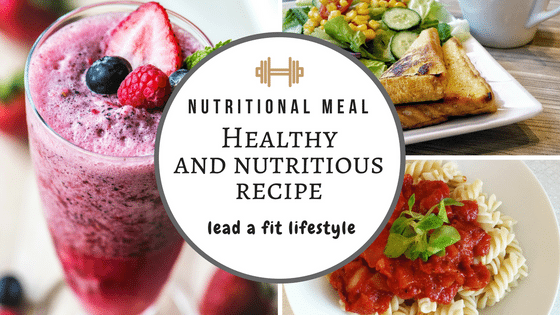 Delicious and nutritious meal promotes ways of increasing overall health and wellbeing with great tasting food that nurtures and energizes your body. Enjoying a balanced diet has the added benefit of helping to establish and maintain your appropriate weight and can address a range of other symptoms and conditions. Banting diets are a trend that seems to be taking on a lot of momentum. The aim of this blog is to acquaint you with some amazing fresh and quick recipes that you can incorporate in your families' weekly meal schedule.
Cocoa And Blueberry Smoothie!
This has to be a favorite breakfast choice among young and old alike. A fun and easy way to make smoothie is filled with blueberries, vanilla, coconut milk and cocoa powder. You can even put some twist to the meal by adding flax seeds or granola mixture. Either way this smoothie is going to taste heavenly and delicious. This also makes for a great choice of meal to have after a rigorous session at the gym. You can even find quirky and stylish workout leggings with fruit based prints and designs that will urge you to work harder in the gym. These types of printed leggings can be found with wholesale blank fitness apparel producers at reasonable deals.
Tomato Spinach Shrimp Pasta
A low effort healthy lunch choice for a perfect lazy Saturday spent at home that can be cooked in under 30 minutes. Boil the penne pasta al dente and toss it in extra virgin olive oil with cherry tomatoes, sautéed shrimp, fresh spinach and chopped garlic. After you're finished cooking, add some mozzarella cheese on top for some extra indulgence.
Sausage And Vegetable One-Pot
This one-pot sausage and veggies recipe is a healthy, inexpensive, and delicious meal that you'll love to make again and again. All you have to do is put cucumber, potato, bell pepper, tomatoes. diced sausages with some oil and stir them until properly cooked. Some fresh and crunchy finely chopped parsley or cilantro leaves can be added to make the meal taste even better.
Avocado & Tortilla Breakfast Pizza
You might be thinking pizza for breakfast? Yes, but these are pretty much extra-ordinary than the normal pizza. The "pizza crust" that is actually used here is a flat tortilla that you pop in the oven for 10 minutes with some mashed avocado. grated feta cheese, and an egg poach on top. This makes for the healthiest and tastiest brunch ever! The millennials obsession with pizza has found its place in the clothing sections as well. You'll find an array of tank tops in different sizes with funky pizza prints on them with a funny quote to go with it. Grab them to break a sweat while training in style.
Honey Garlic Salmon
The spicy honey garlic salmon is perfect recipe for a quick weekday evening at home. Smother your pan seared salmon fillets with a garlic, crystallized honey & mustard glaze and let it bake for a while. You can either have it as it is or make a creamy croton salad to accompany this healthy dish. To add a bit of tanginess to the recipe, drizzle some lemon juice on top of the salmon.
Stuffed Tomatoes With Chicken Quinoa
The healthy quinoa stuffed baked tomatoes are nutritious and filling. Not only this. it also makes for a delicious meal because of the addition of marinated chicken and finely chopped veggies. This combo meal is also suitable to be eaten with a complementary healthy drink or a simple salad and you're good to go. You'll find t-shirts with fitness wear wholesale manufacturers in quotes like "Quinoa and Kale" and "ever eat hard pronouncing foods except for Quinoa" that makes for a chic outfit choice for the gym.
The aforesaid meal recipes are not only easy to cook but also makes a nice starter to a better and a healthy lifestyle. The type and amount of food you're having is very important to reach the targeted fitness goal. Retailers who are specializing in fitness clothing for their niche customers can get in touch with fitness wholesale clothing manufacturers and state their bulk needs.
AUDIO VERSION :