Foolproof Ways You Can Style The Sweatpants In The Chicest Ways Possible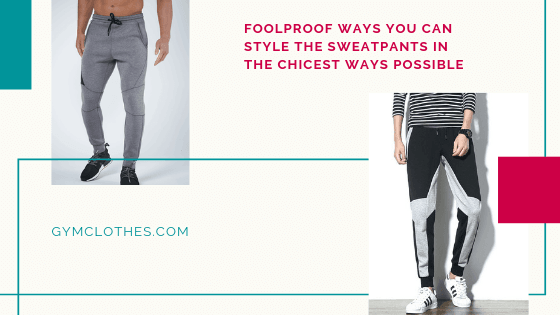 Ever since the rise of athleisure clothing , sweatpants has garnered a lot of attention along with leggings. Nowadays these are worn as pants too, which has raised a lot of eyebrows. Celebrities like Gigi Hadid, Kate Hudson and even Ashley Graham are adorning the sweatpants look in their daily attire. If you don't want to appear cringe worthy then make sure to have a look at the various style ideas in the blog below. The ultimate idea is not accentuate your curves but don't go overboard by wearing the ultimate lounge look. It is all about pairing the smart custom workout pants along with chic accessories.
Elevate the sweatpants look with the classic clothing pieces. You don't have to opt for any kind of over the top apparel pieces. All you need to do is wear a denim jacket with a black crop top to complete the look. Its effortless and easy to style as well. For the shoes, opt for all white sneakers.
Opt for monochromatic attire by pairing several pieces of the same color family. Hence, select the spring favorite blue to complete the look. All you need to do is opt for a dark blue sweat pant with a baby blue tank top and navy blue jacket. For adding some break to the color tone, you can imbibe the pop sneaker look. You can find sweat pants wholesale that are made with quality oriented material in the market.
Who said you can never imbibe leopard print into your workout clothing? Suppliers have come up with wholesale track pants that that are designed with subtle leopard print. These are super comfortable and can be paired well with neutral clothing pieces like tank tops and even jumpers.
Thus, if you want to include jogger pants wholesale in your shop then get in touch with one of the popular manufacturer. All you need to do is browse through the unique collection of clothing that the supplier has in store. After selecting the required pieces state the bulk needs to the customer care team.