5 Fall – Winter Motifs For Your Gym Wear This Season!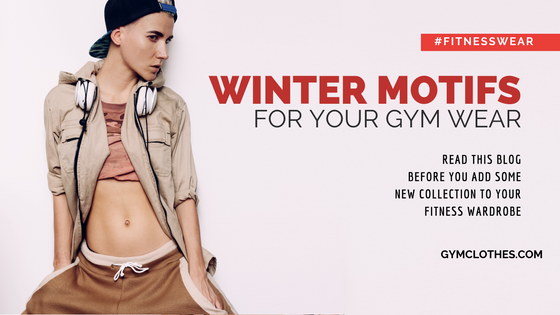 Gym wear isn't just about functionality and fashion, there is also the essence of theme involved. Much like any other aspect of style, seasonal themes make for quite the impact on your athletic wardrobe.
But what are the trending motifs going to be in the coming Fall Winter season? Care to find out? Well, you are in luck, because that is exactly what this blog is going to do for you!
1. Houndstooth Fashion Trends
The houndstooth print is making the right kind of noise on fashion runways and it is not going to stay very far from the catalog books of fitness clothes manufacturers. It has a pretty unisex vibe to it and is going to do wonders when matched with leggings and mesh patterns on the side seam lines.
Houndstooth is also a great top wear look if you are looking for an athleisure outerwear collection that is going to do well with wedge heels and stilettos. Imagine skirts and dresses, and you will get a fair idea of where things are heading!
2. Fall-Winter Floral Patterns
The floral patterns found in oriental gowns and robes is also making its way into the top trending motifs of the upcoming season. This one is a little different from the ones that you generally see – mostly in the look aspect.
The leaves and flowers are well spaced, and they have an illusion of falling, which makes it a great motif for a colorful gym top wear collection. It can also be used to make striking athleisure dresses with a skirt bottom and half sleeves that will look picture perfect with white sneakers. Go for a bright base color like a yellow or a blue and a contrasting flower color – something like black or white sports stripes that will line the sleeve bands and skirt end just a little above the seam will be exotic and classy!
3. Plaid And Checkered Fall Motifs
Plaid and checkered are going to make a rising comeback this season and things are going to become pretty epic for the wholesale workout clothing manufacturers. One of the main reasons why this one is a dependable style is its versatility. It is good for leggings and vests, compression wear and sports bras, and makes wonderful contrast with monochrome gym wear.
4. Pop Art Motifs
These are a little bit of sass and a lot of class – pop art motifs are variant and there are a lot of options. From a pole dancing hot girl silhouette on a mauve background to falling lollipops on a jet black one, the options are innumerable, and they are a favorite of athletic apparel manufacturers.
5. Patterns Of Bliss
In a snowy white world, patterns of bliss are a welcome change and it is something that is going to make its impact on the athleisure world as well. Among these are the butterflies, snowflakes, stars, and hearts – and they are definitely going to make quite the impact in the athleisure market and manufacturing as well!
These are the 5 rising motifs that are going to be very popular in the Fall Winter season! If you find athleisure clothes with similar motifs, don't dare miss out on them – because that is going to make quite the impression!
AUDIO VERSION :