4 Reasons Why Aspiring Fitness Clothes Owners Should Establish Their Own Private Label Brand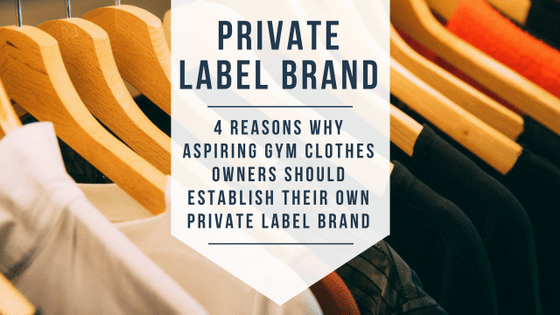 Private label is one of the fastest growing business models globally. With more business clothing owners opting to realize their dreams of starting their own brand, the model is now ever-expanding with no signs of stopping anytime soon. The growth of the private label business is even more evident in the fitness-fashion industry. If you are a business owner who deals in gym clothes and wants to expand the business, it is high time to become a part of this business model. For all those aspiring to join the gigantic model of clothing business, this is a great moment to shine out.
If you are not convinced as if to why you should do so, here are a few reasons that speak otherwise.
It's A Growth Beyond Success
The magnificent growth in the private label brands over the last few years is worth noticing. As more and more gym clothing owners are opting to start their independent fitness clothing brands, the growth aspect is undeniable. Success is just a sweet reward of becoming a part of the private label model, however, what is really staggering that private label brands are aiming beyond success. With prominent existence in the fitness-fashion market, private label brands have the potential to give considerable competition to the top brands in the industry. Also, given the increasing demand for fitness clothing, private label brands have a high chance of surviving the whirlwind of trends and come out at the top, victorious.
Private Label Is About The Experience
Once you establish your own brand, you will realize that though there are a success and high profits to earn, private label athletic apparel brands are all about the experience. You become a part of the massive fitness-fashion circuit, trying to hold your own against the already established names, and once you can attain success, the experience becomes better. You make mistakes, you learn and subsequently grow. Running a private label athletic clothing brand will help you learn the biggest lesson in life- where there is will, there is always a way to come out in the top.
And The High-Profit Turnovers
Again, just like success, high-profit turnovers are a part of the overall success of private label brands. You learn, and you grow. You work hard and attain indomitable success. But the kind of profit you can make is open to interpretation. For some, a significant revenue is a benchmark for success; while for others, it is more about fulfilling their dreams. But at the end of the day, the chances of earning a good deal of profit is completely possible for private label brands. If you can give the fitness enthusiasts something unique, more customers will flock to buy your brand. The more you sell, higher will be the profit. Whatever the case may be, profit is almost guaranteed.
Customization Using Personal Visions
One of the most redeeming qualities of private label brands is the ability to customize the clothes according to your own ideas and designs. It is all about realizing your dreams. You really wanted to combine the abstract art with a pair of running shorts and throw in some dull background color to create a contrasting illusion and it is possible you want to tweak the fabric and the appearance of the gym t-shirts, lending these a more versatile finish, yes, private label allows you to do that. In private label, your crazy visions are possible. It is about you solidifying your dreams and realizing your personal vision of owning a clothing line featuring your personal brand logo. Top private label clothing manufacturers USA based are offering unbiased support to private label brands to help them start their personal brand.
Thus, don't just put off starting a new personal brand for whatever reason it might be. With much to offer, the prospects of private label brands look bright and prosperous. You too can become a part of it by simply finding a reliable manufacturer to hire the services from. Reputed private label clothing manufacturers Canada based are not only offering top-notch equipment to emboss the clothes but are also levying discounts on bulk orders. They are offering guidance and assistance at every step of the journey. Register today and become a private label brand owner of gym clothes.
AUDIO VERSION :