Get Your Private Label On Top With The Best Manufacturer!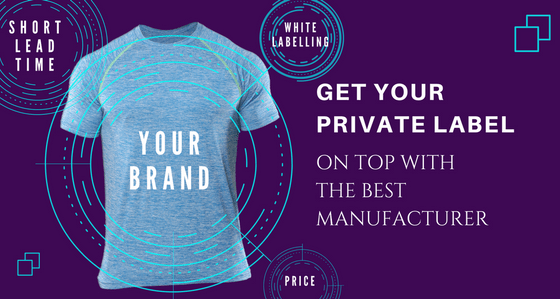 If you are a private label owner, then you must be focusing big time on how to expand your business and make an impact in the market. However, that is easier said than done and owners have to look into the little details to make all of this happen. One of the major avenues to take of if you are willing to make your private label run the long race, is to find a manufacturer that will fit your and your customer's requirements, be it style or comfort!
But what should one look for when selecting workout clothing private label fitness apparel manufacturers? Here are a few definite pointers to help you make an informed choice.
1. A Long Index Of Products
Workout clothing comes in different shapes and sizes. There are loosely fit workout clothing, sports fit clothing, comfort fit workout clothing, and compression wear. If your manufacturer has a wide range of options in all of them, then it is a great match for your workout clothing private label brand, and it will also have a lot to offer its customers.
2. White Labelling
Since you are a private label retailer and not a regular one, it's very important that your manufacturer of workout and gym clothes allow white labelling. White labelling is the process in which manufacturers do not print the labels and the clothes can be rebranded by any particular brand. When you order white label clothes from one of the top private label clothing manufacturers Canada and USA, your brand is bound to well because of the products superior quality, design, and make. So, never compromise on white label clothing; it is highly cost effective and gets you a fantastic reputation.
3. Short Lead Time
Lead times are a crucial downer for private label owners. This is because in the initial stages, since their minimum order quantity remains low, a lot of manufacturers don't take their orders seriously and delay it unnecessarily. However, when you find a manufacturer which guarantees a short lead time, you should know that you have found your match. The secret to success for a private label clothing brand is quick sale of new age designs and fast renewal with new varieties, and that is exactly what shorter lead times offer.
4. Extensive Manufacturing Process
Since conventions show that most private label brands have clothes that are more expensive that regular retail clothes, it is very important that your private label's manufacturer has a very extensive process which involves multiple levels of product checking in order to ensure that only the best come through to you.
From private label leggings to compression wear, these clothes are made of durable, stretchable, and comfortable material and these fabrics should belong to the best quality of artificial yarns.
These 4 qualities are pointers that will lead you towards a manufacturer for your private label that will totally escalate your business' position. So, what are you still waiting for, get working towards your selection today!