3 Dos And Don'ts Of Gym Clothes That Every Man Should Remember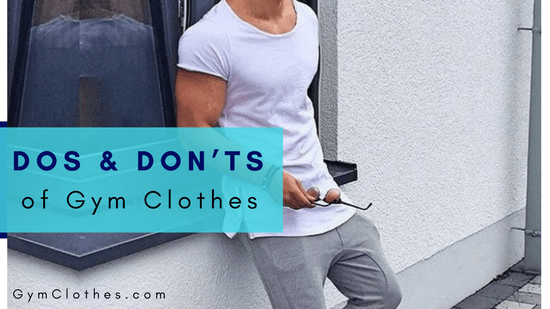 The universally asked question that has been haunting enthusiasts for years is- 'what to wear at the gym?' While there are many solutions to the question- some are acceptable, some are just downright hideous. Instead of focusing on an ensemble, focus on individual pieces. Once you get them right, it will be easier for you to put together a more meaningful and well-thought attire. If you are still not sure which one to opt for, then here are three pieces you should rely on and what not to pick.
The Top Wear :
While most men still don't know what to wear, there is no strict guideline either. Many men think that lesser clothes mean more comfort, but this a misconception of greatest sorts. Covering up when sweating hard in the gym is a great way to prevent the muscles from spasms. A t-shirt, a sweatshirt or a hoodie make great choices for the gym. It keeps the blood circulating and as you sweat, it reduces the risk of fluctuating body temperature, which can be dangerous. Also, the more you sweat the more calories you lose. But you have to be careful here. The t-shirt you are wearing, especially the t-shirt you are wearing should have the ability to wick moisture and keep you dry. It should not weigh you down for that will make movements difficult.
DO NOT overdo your look. Opt for subtle shades; you really don't want to look like a melting ice cream. Don't wear anything that is too heavy or constricts movement. Gym clothes should be light in weight and easy to wear.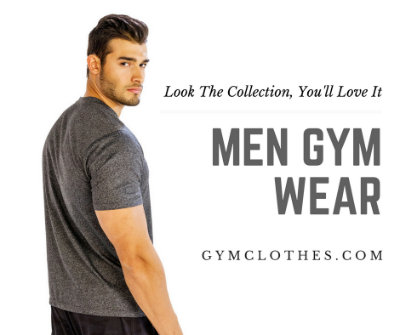 The Bottoms :
Just like your t-shirt, your pants should be efficient enough to add to your overall performance. Whether you choose aesthetic pants or a pair of shorts, the length plays a key factor in your gym clothing expedition. It should not be too long for that can slip under your feet and accidentally trip you, but they shouldn't be too short either for that can cause discomfort in all the wrong places. A pair of shorts should be no longer than below your knee or shorter than 2 inches above the knee. A pair of joggers should too end well above your ankle. The pair, whichever you pick, should be moist wicking, and stretchable.
DO NOT wear anything that causes discomfort. Avoid trunks, cargo shorts, spandex pants, and capris. Also, stick to lighter colors and no motif.
Shoes :
It as if almost by the rule that a nice pair of shoes for the gym is mandatory. No good shoes are equivalent to not going to the gym. Though the number of choices here reduces significantly, however, the ones already there are enough to make it work. Go fancy, but not over the top. For this particular piece needs to supremely comfortable. Pick a shoe that has soft but steady soles. It should minimize the blow you take. Also, pick a pair that is high in traction to avoid accidental fall. Socks just as necessary as underwear (no pun intended)! A pair of socks will soak all the moisture from your feet, keeping it from smelling, while also preventing blisters.
DO NOT opt for socks and shoes that hardly cover your feet. Sandals and flip-flops should be kept exclusively for outside the gym engagements. Shoe digits might be easy to wear, but they do not protect your feet and can cause sprains. So be mindful!
Thus, the next time you go gym clothes shopping, ensure to pick the right clothes and accessories. It is pivotal for your performance that you wear the right things. Though there are no rules to follow, if you want to benefit from your sweaty sessions, make sure to pick the right clothes. Wholesale gym clothing can be purchased from the top manufacturers of fitness apparel. The clothes are constructed using fine quality materials. They also incorporate nifty shades that add to the overall design. Retailers can now make a bulk purchase at discounted rates.
AUDIO VERSION :