Top 5 Reasons You Should Get Scary Halloween Designs On Your Fitness Tees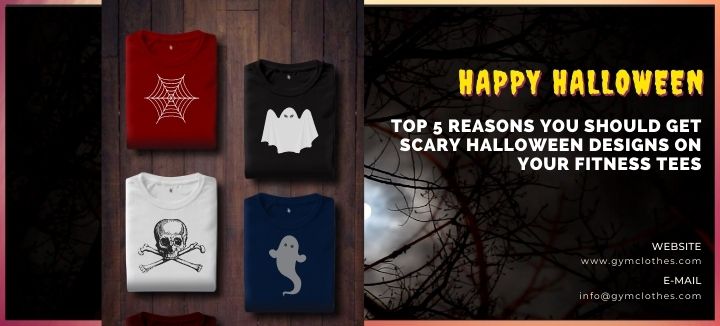 Want your fitnesswear to speak Halloween? If you're a fitness-addict, it's natural for you to wish to exhibit some spooky Halloween vibes through your fitness clothing. Feeling shaky about displaying headless corpses, blood, vampires, ghosts and scary referrals on your fitness t-shirt? After reading this, you'll feel confident to wear creepy t-shirts and tanks this chilling 31st night!
1) To Complement The Freaky Night
If you wear your fitness tees as athleisure wear, you won't have to hesitate to wear these for Halloween as well. Goosebump-inducing Halloween designs on your workout tees is perfect to match the darkness enveloping this Halloween month!
2) To Exhibit A Unique 31st October Styling
Bored of wearing your plain workout tees? Here's a chance to elevate their style appeal by getting tees with gruesome Halloween graffiti and classic horror quotes. Now's the chance to look scary and fashionable by flaunting nerve-tingling Halloween designs on your fitness tees!
3) To Fuel Up Workout Motivation
Want to spook up your fitness attire without shifting to something entirely different? Then, Halloween designs of pumpkins, candles, candy lanterns and witches are just what your workout t-shirt needs to give you an inspirational nudge for a Halloween special gym round. This Halloween you can fulfil your fitness goals while making a "killer" style statement!
4) To Win Hearts Of Fellow Fitness-Enthusiasts
As athleisure clothing is now dominating the global fashion industry, fusing it with frightful Halloween vibes is an awesome way to attract attention of other fitness-addicts around you. Whether you're working out in a t-shirt with skeletons or drinking coffee in a fitness tee with cobwebs, it'll surely inspire other workout-maniacs to do the same for some freaky fashion fun!
5) To Showcase Your Love For Halloween
Besides exercise, is Halloween another of your favorite things? Then, you can blend the two by wearing your workout t-shirts with eerie and bloody Halloween designs to mirror your fitness-conscious personality. This Halloween you can dress up the sporty way without any comprising on ghosts and ghouls!
Are you a retailer excited to add variety to your activewear stock this Halloween? Then, you should get in touch with a top-rated wholesale gym clothes supplier to acquire sassy fitness tees of supreme quality with intriguing Halloween design projections.