The 2018 Men's Gym Wear Essentials To Look Out For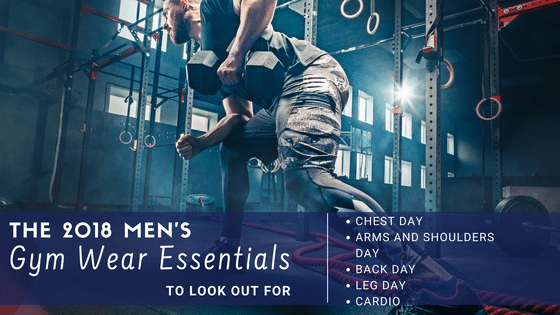 Since summer is already here, it means you're going to spend only a few hours at the gym each day or the park or the track, etc. While there, you need your clothes to perform but do you know it can also make you look good? The perfect athletic clothes should speak for both comfort and style. This blog contains a fool proof guide to some hand-selected essential pieces that can help you look great while getting pumped up without sacrificing the overall performance. Who knows, solid workout clothes could even inspire you to hit the gym more often and help you to achieve the desired body type. Due to the increasing demand in the fitness fashion industry athletic apparel manufacturers are changing and upgrading to make the wholesale sportswear trend essential so that concerned retail customers are encouraged to invest in such pieces by ordering them in bulk.
Chest Day
For chest workouts, the best athletic wear you can opt for is a vest. A vest allows for easy arm movement, and will show off your chest, making you look bigger when lifting weights. Combine with performance bottom wear like shorts and trainers, and you'll look stylish and also be able to get the most out of your workout. There are plenty of vest styles available like the color blocked, logo printed, etc.
Arms And Shoulders Day
For arms and shoulders, you'll need a vest as well , since you're going to be moving your arms around and a vest will not only ease the movement, but will also be more breathable so you're likely to be less sweaty than you would be in a long sleeved top or hoodie. Pair it with moisture wicking track pants for comfort as you're going to be sitting down for a lot of your workout.
Back Day
Athletic wear for a rigorous back day is all about being comfortable. You don't have to put much effort into this outfit, so throw on some comfortable joggers and pair with a long sleeved t-shirt. When choosing your t-shirt, opt for white or black because these are colors which minimize sweat patches. This way you'll feel not only comfortable but confident, too.
Leg Day
For leg day you can cover up your top half with any old t-shirt or hoodie because it's the legs that needs the workout. For warmth, protection and comfort, it is suggested to wear athletic leggings, with shorts over the top for modesty concern. Wear a well-fitting cushioned trainers and you're ready to hit the gym.
Cardio
When you're going for a fitness workout like cardio, the most important thing is not to overheat your body. Leave the leggings, track tops and hoodies at home, and choose breathable, sweat-wicking comfortable t-shirt and running shorts. Your shorts need to provide plenty of room for you to move around, and be breathable to stop your legs from getting too hot.
Retailers can bulk order custom athletic apparel to instill signature brand styles and prints into it. All they have to do is shoot a mail to the help desk of the wholesaler and request a quote for the apparel they want to purchase.
AUDIO VERSION :