Ideal Features Of Quality Fitness Wear You Should Look Out For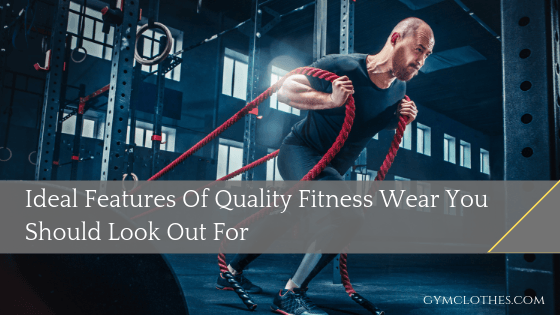 There's no better feeling than running across the grassy field on a pleasant summer day. The wind in your hair, the warm glow of the sun on your skin and the wind makes it favorable to workout outdoors this season. Although if you're not wearing the correct clothes, then chances are that the entire fitness regime goes for a waste.
Fitness Clothing should ideally help you feel confident and comfortable. Hence, if you want to invest in the best pieces, it would be advisable to get in touch with one of the popular private label fitness apparel manufacturers. Thus, read on the blog below to know more about the features of a quality private label gym clothes.
Comfort
Avoid any kind of rough fabric that can mess up with your workout. You don't want rashes caused b chaffing. Choose fabrics that let you move and doesn't cause any constraint. Pay closer attention to fit than size as some of the workout clothing tend to be smaller in size yet form fitting, as compared to such clothes that are of the right fit.
Look for clothes that are ideally made of a artificial material instead of natural fibers like cotton. This will help you to work out for a longer period of time.
Wicking Ability
Summer means you'll be perspiring a lot while working out. Hence, it is important that you opt for such clothing pieces that has unique wicking ability. Look for clothing that has a polyester and lycra blend.
These materials keep you warm in the winter and cool in the summer. If you like natural materials then opt for clothing that are made with a bamboo material.
Perfect Fit
You might feel temped to opt for a baggy pant for the yoga class. Although if you wear fitted clothing, chances are that you can benefit well from the workout. Hence, it is important that you wear form-fitting clothing for your workout routine. Be it HIIT or even Pilates, you need to adorn the best type of compression wear that will help you to work out well without the tendency of muscle inflammation.
Technologically Advanced
The modern workout clothing boasts of technologically advanced qualities. These ultimately helps to alleviate your experience during the exercise regime. Hence, you can find clothing pieces that consist of antimicrobial lining that helps to prevent the infection causing bacteria. Not only this, you can also get thermo regulated clothing.
These type of clothes aims to control the core temperature of the body and balance it with the outfit temperature.
Business owners who want to include quality clothing pieces in their store can get in touch with one of the popular private label active wear manufacturer. All you need to do is browse through the unique collection of clothing. After selecting the required pieces state the bulk needs to the help team.
Recommended Read : The Serious Mistakes You Are Making With Your Activewear Regularly