A Comprehensive Guide To Buying The Ideal Sports Bra: Read On!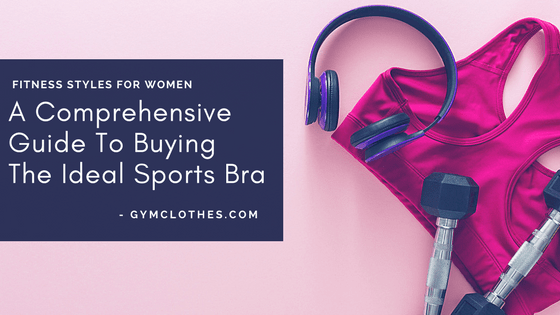 The first question that needs to be answered is, why do you need a sports bra at all? What is wrong with wearing the regular bra to a workout session?
Many of you argue the need of wearing a sports bra during a session. You think they are sexist and uncomfortable. But let's face the facts here. When you are working out, your assets will move anywhere and everywhere. There is no stopping it from moving in full motion. And if anything that is actually what is uncomfortable! Your regular bra is not good enough to stop the motion. A sports bra is designed as such that it cuts down movement by half.
The mechanism of a sports bra is simple- it compresses your asset towards your body and stops them from pouncing and bouncing. It gives support and adds structure to your assets.
But how to pick a sports bra that suits your body type? How to opt for a version which makes you feel comfortable? Before discussing the various aspects of it, you first need to understand- the sports bra is as good as you want it to be. What is comfortable for someone else might not work for you. Hence, before you invest in buying one, try them out. Top sports bra wholesale suppliers have the finest pieces displayed in their inventory that can be purchased in bulk.
Compression Or Encapsulation?
One of the most compelling questions to ask- do you want a compression sports bra or an encapsulation sports bra? Let's understand the features of each.
Compression Sports Bra: Ideal for moderate to high impact workout sessions like running or Pilates, compression bras, well compress the assets to the chest, limiting movement. Compression bras don't have separate cups, however.
Encapsulation Sports Bra: Encapsulation bras have separate cups and are mostly suited for low-intensity workouts like yoga. They are much like regular bras but offer a little more support than the daily ones.
So pick the one depending on the kind of exercise you're undertaking. Wholesale sports bra manufacturers use a wide range of shades for both to give them a stunning appeal.
Racerback Or Wide Straps?
Did you know that the type of strap determines the kind of support that sports bra will have! So let's see which one provides more support?
Racerback: This design usually witnesses the straps clinched at the back, anchoring the straps closer to the body, hence, providing more support.
Wide Straps: Wide shoulder straps distribute the weight better. These can be adjusted according to your comfort.
Thus, weight distribution or a clenched support, choose to suit your needs.
Pullover The Head Or Back Clasp?
Again the design determines how comfortable you will be. There are two major designs used for a sports bra. Understand the aspects well.
Pullover: This design indicates that you will have to put it through your head (like a top). These offer more coverage but sometimes lack in adjustability. These can be extremely stretchy.
Back clasp: Sports bras with back clasps allow you to adjust it according to your convenience. It is also responsible for providing more support to the assets. These have adjustable straps as well.
Again, pick according to your comfort requirements.
A Few Extra Tips For The Ladies
For a long-lasting sports bra, avoid using fabric softener or bleach. Wash the dirty ones with mild detergent and cold water.
Don't put your brain the dryer. Hand it to dry itself.
Change the sports bra when the fabric starts feeling coarse. The average lifespan of a sports bra is 9 to 15 months, upon regular use.
Do try out the bra before buying it.
So now that you have a comprehensive guide on how to pick an ideal sports bra, make good use of these. Retailers, who are interested to make a bulk purchase of sports bras, can register online with reputed sports bra manufacturer. They have a massive inventory of the latest and the best pieces. Special offers are available for bulk buyers.
AUDIO VERSION :
VIDEO :