A Complete Guide To Buying Gym Shorts For The Ladies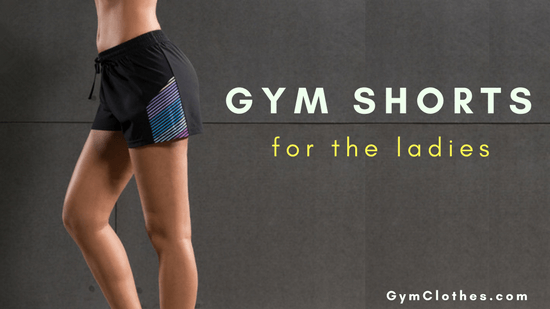 Gym shorts are the essential item in a woman's bag when going for the fitness regime. Be it for their functionality or their fashionable appeal, we hardly have any idea about a pair of shorts. To help you pick the best one, here is a comprehensive guide. Scroll down to know more.
The Types Of Shorts Are…
Broadly categorized into three types. These can be identified as follows:
Yoga shorts are the ones which are largely worn during yoga sessions. In contrary to popular beliefs, many women prefer shorts over leggings for the former allows better circulation of air. It is also easier to move in them and the fear of tripping over the pants is completely eliminated in them. The pairs also enhance swift movement of the legs, without any restriction.
The next type of gym shorts ladies can be classified as the bikers' shorts. As the name suggests, these are the ones which are worn when biking, hence, they are compressed and come with extra padding (so as to keep you protected from the seat). Sleek and stretchable, the biker shorts are ideal for intense sessions owing to their stretchy material.
Running shorts come in two popular designs. One is the long version (up to the knee) that is loose, and the other is the tighter and shorter variation of the former. When running, the classification of choice boils down to fabric more than the design or style. Usually, they come with high compression as to avoid the inner thighs from kissing each other.
The Types Of Fabric Used
Gym shorts womens come in a variety of types, and they play an important role in the type of regime you are performing. However, fabrics are pivotal for they determine a lot of your performance. The two most commonly used fabrics to craft gym shorts can be identified as follows:
Cotton: Due to its natural roots, cotton is extremely comfortable to wear. It lends a soft touch against the skin and is one of the best materials to opt for when working out. However, cotton only absorbs sweat but doesn't dry off, which makes it heavy. They are extremely breathable and allow movement without any restriction.
Synthetic fabrics like polyester and Lycra are great when working out for they have one redeeming quality that lacks in cotton- wicking moisture and keeping you dry. They are stretchable and breathable while cooling your body.
Most of the shorts constructed feature a combination of cotton and polyester to give you the best of both worlds.
On That Note
Thus, it can be very well-established that a pair of shorts is functional. The gym shorts for women come in a variety of shades and textures. Be it a subtle undertone or a vibrant hue, you can find them in all. The use of classy motifs gives them a smart appeal. Thus, the next time you buy a pair of gym shorts, ensure to keep these points in mind.
Retailers who are interested to make a bulk purchase can register with the manufacturers of gym clothes today.
AUDIO VERSION :