5 Trends To Follow In Gym In This Year For An Enhanced Performance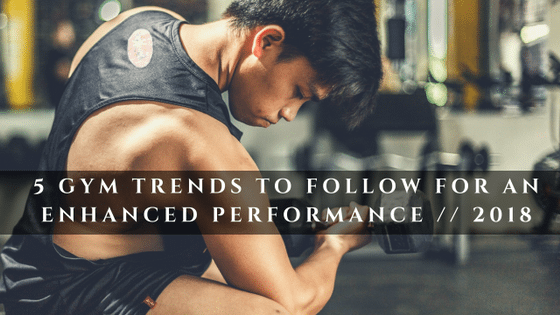 Okay, so take a minute out of your super busy routine and read the article. It is going to help you. If you are a fitness freak, or maybe not so much, but visit the gym on a regular basis, you know how important trends for the gym are! Confused right? Well, it is true that when we go to the gym to engage ourselves in an intense regime, we think that much of it is related to just a few push ups and bench presses. It is not! Your clothes and the accessories you wear form a significant part of your gym regime. Thus, to heighten the experience and take it to the pinnacle of success, (you would like to reap as much benefit as you can), here are some clothing trends for mens gym clothes in specific that you can rely on. Read on the given list and make 2018 a fruitful year, in terms of the fitness and fashion department to say the least.
Tip 1: Choose Techs That You Can Wear
Digital technology has taken over our world, and fitness department is no exception. It is a known fact that the future is depends much on them. Hence, do not be surprised to the see the next guy working out wearing something high-tech. The market is saturated with digital watches, heart rate measures, performance keeper and many more such gym gear men that best reflect the mentality of the millennial.
Tip 2: Tights Are a Thing (If They Are Not Too Tight)
Those old tattered clothes that your dad threw out (but obviously you kept them for they are super comfortable) looked great when you were in high school. But now those days are over and getting a serious wardrobe makeover is required. And if you are thinking about playing it safe, then well think again. You can actually get a pair of compression tights for they are extremely comfortable and allows you to move without much effort. Pick them but consider the fit, for too tight a pant can highlight your private areas which will only add to your discomfort and embarrassment.
Tip 3: Better Quality Fabric, Better Performance
A blend of cotton and polyester is what you should be looking for. While cotton will lend a soft touch against your skin, polyester will absorb maximum moisture and keep you from feeling grossed. (Sweat can be very annoying at times) hence, make sure that the clothes you pick are constructed of the correct fabric for that is synonymous with your performance. See, clothes determine your comfort, your comfort decides your performance. So, good clothes equal good performance.
Tip 4: Bold Tanks And Statement Shorts
Guys, it is time to experiment. Like seriously. Lose those comfy tees and shorts. Try out something new. Try out something different. Plunge on a bold tank top and colourful shorts. These pieces are in trend right now, so yes, you wearing them kind of make you a trendsetter! (That's cool right?) Play with textures and patterns for a long lasting impact on all your co-workout peeps. Gym clothes men can be purchased from renowned wholesalers who have them constructed in a variety of designs.
Tip 5: The Shoe Paradox
There is always an ensuing confusion regarding workout shoes. They are different from the general shoes (so no sneakers!), as the pairs come with high traction to prevent falls and soft inner sole to cushion your feet from accidental blows. Thus, inspect first and then invest.
Thus, follow the above mentioned trends and see how your regime changes for the best. You can get the best wholesale gym clothes for men as available with prominent manufacturers. Interested retailers can make a bulk purchase at discounted rates. Register with them today to get an access to their vast inventory.
Audio Version :