5 Reasons Why Correct Gym Clothes Are Important For Your Performance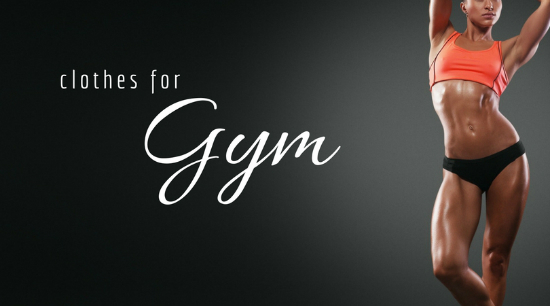 We all have come across articles claiming what should be worn to the gym and how they can be worn. Very inspiring as well! However, what we all have conspicuously missed is why should we wear the right clothes to gym? A t-shirt and a pair of tracks make you comfortable and that alone should justify wearing them! But minutes into the bench press, and you realise that you are quickly turning into a puddle of sweat. Being uncomfortable follows next, followed by a weird sensation of feeling dirty and grossed out.
So if you are looking to avoid this situation, then yes, right clothes do matter. The fabric, the design, the make and the finish, all have to be considered before plunging onto making a big investment. If you are confused on how to categorise it, then read on. Below is given a list reasons that justify that why clothes are important and how they enhance your performance.
1. Your Confidence Depends On It
The clothes you wear boosts your confidence, indirectly at least. When you are comfortable in the clothes you are wearing, your performance enhances and when your performance enhances you feel good about it, which triggers your confidence and takes it for an upward ride. Right clothes when backed with the right attitude, helps you rip the benefits of exercise.
2. Yes, Correct Clothes Does Improve Your Performance
As mentioned earlier, the clothes you wear are directly synonymous with the performance you give. It goes without saying that clothes are responsible for our comfort and our comfort determines the result of our hard work that we put in when working out. By default, if you wear a heavy set of clothes, it will slow you down. On the other hand, light weight clothes for gym that allow you to move freely are the perfect choice, making the session more constructive and effective.
3. It Is Practical And Prevents Injuries
When you wear the right clothes, it actually offers you protection. Most of the gym trainers will advise you to wear the right clothes and pick the right equipment because the wrong ones can interfere in your routine. For instance, gloves to cover the hand can be a great way to prevent calluses on the palms. A pair of socks can prevent your feet from getting blisters. Shoes provide cushion and minimises the blow on your feet. A baseball cap can protect your head from the overhead sun during the hotter months. So yes, right clothes and gears have a lot of potential and they do protect you.
4. Allows You To Move Effortlessly
We often, in an attempt to get the best deals (the ones that are extremely cheap); make a wrong choice in our selection of clothes. we see a gym wear and gym gear sale somewhere, and unable to control our craving end up investing in products that either do not fit well, or are uncomfortable at all levels. When you are investing in fitness clothes and active wear, your freedom of movement is pivotal. Without the liberty to move to and fro in order to master a particular posture, you will never be able to enjoy the benefits of working out. Hence, right clothes are of utmost importance.
5. Keeps You At Comfort And Helps Recover Fast
This aspect has been talked about at least quite a few times, but it is true. Clothes are your pathway to comfort. Fitness clothes are constructed using fine quality fabric which ensures to lend a soft touch against your skin. Clothes that come with high to medium compression actually helps you to recover when after a session, your muscles become sore. It stimulates circulation of blood in your body, affecting you in a positive way.
The above mentioned points highlight the importance of picking the right clothes. So now, making a wise choice in the department of fitness clothes will be easier for you. You can buy gym wear online from retailers who promote the concept of right clothes for fitness regimes. They understand the need and importance and design the apparels accordingly, which make a noteworthy splurge.
Audio Version :