5 Chic Ways To Wear Sports Bra Outside The Gym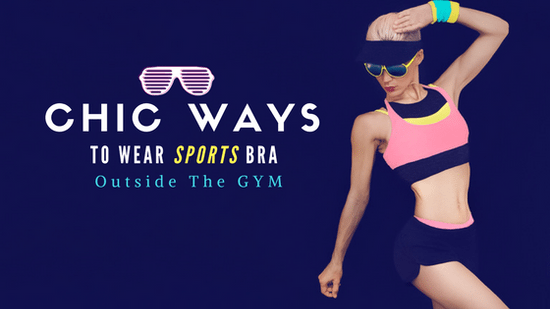 A sports bra has elevated its status in the fitness-fashion industry over the last few years. The functional abilities combined with stylish designs make them a trustworthy piece. However, often times people have reacted to how indecent it looks outside the gym. But enthusiasts have pointed out that a sports bra worn right not only looks elegant but is extremely comfortable to wear. If you are wondering how to wear it right, then here are a few suggestions. Keep reading to find out more about stylish ensembles that celebrate the wearing of a sports bra outside the gym.
A mesh sheer top combined with a sports bra for the gym is ideally the best combination for a casual occasion. Unlike a regular bra, the sports version is not too revealing; neither is it too constricting like a camisole. A perfect balance, you can complete the ensemble with knee length skirt and block heels, all in muted shades.
A black top that shows a little bit of skin is as sultry as it can get. However, rather than wearing it with a regular bra, you can pick a triangular cut sports bra in black. This will help maintain uniformity while also adding layers to the ensemble. A pair of check shorts and ankle length boots will make the perfect good-girl-gone-bad appeal.
We all love wearing high-waist pants, but the usual pairing with a crop top is old and mundane. Spice up the look with a sports gym bra. To look ethereal, you can opt for pieces that are all in white. Complete the look with a pair of white trainers. However, if you feel a little too revealing and want to break the monotony of white, throw over a black bomber jacket on top. Sexy and impressive, this ensemble is ideal for casual gatherings.
A sports bra can be made dressy as well. All you need is a stylish version of the same. A deep V-neckline sports bra is the latest edition in the industry that has been doing its round. Pick one in black and team it with a pair of wide-leg trousers in white. Strappy heels and smokey eyes will elevate your appearance to an ethereal level.
A more formal take on the sports bra is teaming it with a pair of blazers and pencil skirt. A usual take, to say the least, the appeal is classy and charming. To get the most out of this particular appearance, and make it look conventional, opt for monochrome shades – the skirt and bra in black, whereas the structured jacket in a monochrome check pattern.
Thus, wear a sports bra outside the gym and shine through with panache unmatchable. Just pick the right apparels to team with your sports bra and stand out in the crowd. Wholesale sports bra featuring a variety of designs and shades are available with the leading manufacturers. Retailers can purchase them in bulk by registering online today. Special offers are available for bulk buyers.
AUDIO VERSION :
VIDEO :