3 Tips To Keep In Mind If You Want To Avoid Bad Wholesaler Choices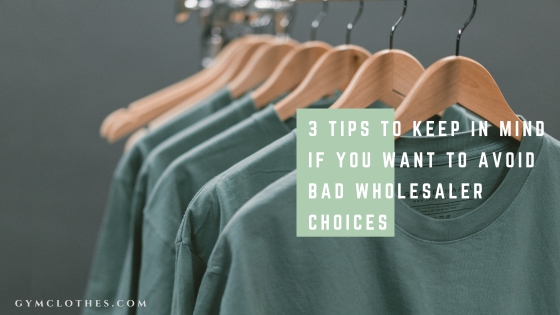 If you are a new retail store owner, then avoiding bad wholesaler choices is very important to your success. It is well supported that the manufacturer and wholesaler is the backbone of any retail store.
In this blog, we are going to take a look at how you can successfully dodge these shady dealers and find yourself at the gates of the best wholesale workout clothes manufacturer.
Interested to find out? Let's take a look now:
1. Make Sure You Always Checkout Their Customized Section
Looking for a huge catalog when deciding a bulk manufacturer is quite redundant. It is not a manufacturers job to keep the latest trends and colors in mind – it is their job to make them. And that can be easily done if you hire a manufacturer with a strong customized experience.
Custom apparel is the bedrock of a great apparel manufacturing company and you should keep that in mind when picking one. This is what will help them give you no less than the very best of trends!
2. Delivery Guarantee
A lot of manufacturers promise high and mighty things and then go back on it later. The delivery guarantee promise is one of the most important in that imaginary list and should be elaborately discussed from beforehand.
If it is not, there is always a change that you get partnered up with a wholesale fitness clothing manufacturer with blurred morals – someone who is not afraid to go back on their word.
Losing track of the right delivery dates is just the kind of mistake that makes things super inconvenient for your business. so, if you don't want to fall under the axe, this is definitely a situation to avoid.
3. Check Out The Private Label Brand Collection
Ultimately, picking the right manufacturer would determine the future of your brand and if you want a private label collection, then you have to take a look at their wholesale gym clothes blank wear today and find out more!
If there are plenty of product design options along with custom needs, then this is going to be the best choice for you.
Found out what you need to know to get in touch with the best manufacturer?
Then what are you waiting for? Get looking now and find out more!
Recommended Read : The In-Depth Analysis Of The Growing Wholesale Fitness Apparel Market