3 Activewear Trends That French Women Do Differently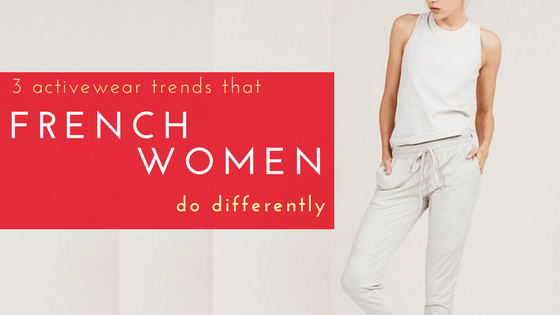 For centuries, French women have been the epitome of style. They have influenced many style trends. When taking a stroll around the streets of Paris (or for that matter any French city), you will notice perfectly dressed women, with silk handkerchief around their neck and stilettoes on their feet. Not too often will you notice women clad in complete activewear pieces, but when they do, it looks charming and elegant.
French ladies are known for their refined taste in fitness-fashion. Many manufacturers of workout clothing wholesale have pointed this out for they have drawn massive inspiration from the dames. So why not take motivation from their creativeness? Why not know what they love wearing and what they will avoid at all cost? It is time to update to your fashion quotient in the terms of the French ladies. Keep reading to find out more.
They Never Go Full Activewear
One of the few things you will notice on the streets of Paris is a woman dressed in all activewear pieces. They believe in combining different fashion pieces together to get an elegant ensemble. Depending on the workout regime they are attending, their clothing needs changes as well. But when they step out of the class, you will notice trendy casual apparel being sported. Bomber jackets and denim over shirts are the most casual pieces in here. This is mainly followed to keep the vibe chilled just as athleisure aims to but with a dash of style.
Heels And Leggings Are Not Their Preference
Most French women hate pairing their leggings with heels. They consider it to be a disaster of the greatest sorts. You will notice those wearing flats like ballerinas and ankle length boots, but never stilettoes and wedges when leggings are their choice of cloth. They are pretty serious about going either way. Workout clothing wholesale manufacturers has thus designed leggings that are sportier in their appeal and can work out well with sneakers and trainers.
It Is Either Comfort Or Unique Style; Nothing In Between
If you compare the French women with American ones, there is a major difference in the way they dress up. While going full athleisure is considered to be normal in the USA, in France, women have specific choices when it comes to wearing activewear on a daily basis. You will find two types of ladies- one, who is wearing sweatpants and a sports bra because she is comfortable and not trying at all; second, who has a unique sense of fashion and has a different taste. There is nothing in between.
The Major Pieces In Trend Right Now
Oversized loose t-shirts, hoodies, leggings, and sneakers are the key activewear pieces in France at this moment. As mentioned, the leggings and sneakers remain quite constant. The t-shirt or hoodie can be traded for a nice turtleneck or a sophisticated pullover when done working out. Also unlike the many colorful versions available, for French women, they love their leggings in solid dark colors to get a better outcome. (Black leggings can go well with any apparel, hence easy to style). High waist versions are also much appreciated. Simple clothes that reflect spontaneity is what the French dames aim for.
Wholesale workout clothing manufacturers have similar pieces in their inventory that can be picked in bulk by the retailers upon online registration.
So make your activewear trend fun and unique by taking a few cues from the women across the Atlantic.
AUDIO VERSION :
VIDEO :