Top Activewear Trends In 2020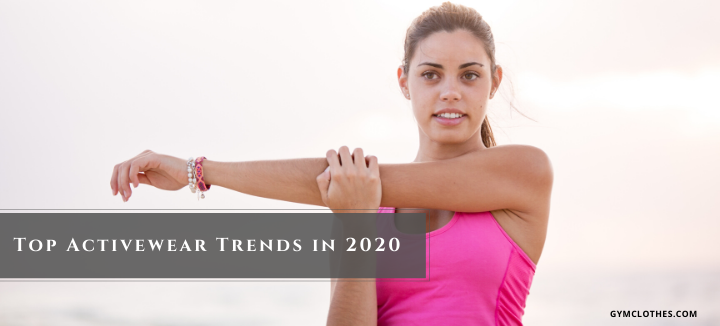 It's no secret that the wellness market is booming. More and more people are continuously seeing the importance of keeping fit. Due to this, the market has seen a surge in new innovations in terms of new techniques and equipment used.
The evolution of wellness from an unwanted lifestyle choice to a new status symbol in the society has not only seen the evolution of techniques or machinery aloe, but gym clothes have also experienced a fashion lift as well.
One such example is the rise of activewear, which is a luxury athletic wear that converges different multi-sectoral tastes. For quite some time, it has revolutionized the way women dress during work out sessions.
Due to its fashion sense, activewear has hastened both the fashion industry and the fitness sector as well. Even so, more and more women seem to be amazed by this fitness gear that can not only get you into character while at the gym but feigning enjoyment at the same time.
One of the most amazing things about activewear, however, is that it is no longer inclined to traditional ways of the weight room or sig studio. Rather, today's gym wear offers an array of amazing options that can take one from a neighborhood bar to the actual fashion stage.
This article will give you a detailed review of top activewear trends to expect in. Read along to find out more.
1. Multitask Activewear
One of the best things about activewear is that it reaches the gap between traditional gym wear and contemporary casual wear. This means you can comfortably get out of bed on a Saturday and jump into your activewear.
Today's workout consumer is fascinated with the idea of their activewear being ready for any situation. This means that consumers are increasingly in need of gym wear that can be worn through leisure, fitness or anything In between. At the same time, consumers are looking to streamline their gym wardrobes with appropriate clothes while investing less in major pieces. This is what multitask activewear rigs on board. The good news is that you can find numerous brands that offer multitask activewear in the market today.
2. Sustainable Style
Just like any other industry, the sportswear market has increasingly embraced the all green campaign. It's safe to say that green is the new black in the sportswear market.
Today, consumers, of any products demand to know how their sportswear was made, techniques used and the materials used to make them. They demand a greater level of transparency from manufacturers. By late 2019, a great number of brands had already embraced this call by consumers. It's only expected that this number will grow more in 2020.
In order to shop for more conscious style clothes, you should take advantage of online stores such as gymclothes.com which offers its customers a vast array of socks, both for casual wear and for gym wear. As is that's not enough, you can directly order customized gym socks from this store and it will be delivered directly to you.
3. Eye Of The Tiger
It goes without saying that 2019 saw a big wave in the fashion industry with animal prints taking the center stage. These prints have been seen in almost all forms of clothing, including gym wear. If you haven't come across this form of gym wear, then you can expect to find lots of it in 2020.
As much as these work out wears are aimed at increasing comfort while at the gym, they also ensure that you get in touch with your wild side. Additionally, they heighten your sense of fashion by matching a number of prints. You can expect to find leggings, crops, and yoga pants among other gym wear with animal prints all over the stores in 2020.
4. Pretty In Pastel
Pastel has seen its fair share of glory and glamour after being endorsed by top celebrities such as Kylie Jenner and Bella Hadid. It was only expected that the gym footwear brand would attract such a massive following after such endorsement.
Even so, since the celebrity star has been dinning the beige and neutral chrome look in Australia, won't it be fun to change things a little bit in 2020? Well, here's what you can do to make your Pastel look unique. Try playing around with lighter colors. Avoid the already used colors that have become common among gym-goers.
5. Retro Reboot
One of the most fascinating things about fashion is that it ever des. This can be seen today as the 90s sense of style is being incorporated in almost every fashion style. The athleisure market has o tee left behind. Over the years, more brands in the sportswear industry have continued embracing the 90s style phenomenon with the creation of impeccable gym clothing that clearly depicts the 90s flair.
In 2020, you can expect to see more of this trend cutting across a number of major gym wear brands in the market. Whether it's oversized tops, light neon colors, to midriffs, you can remain assured that this trend is there to remain for the entire 2020 season.
If you are looking to embrace this look, you can hit the market for brands that offer oversized jumpers, classic style sneakers, a windbreaker with an array of colors among many other things. You can never go wrong with the retro reboot look. The best thing is that you can darn these clothes in all your favorite sports labels including Puma and Nike among others.