List Of Important Features To Seek In Modern Activewear Clothing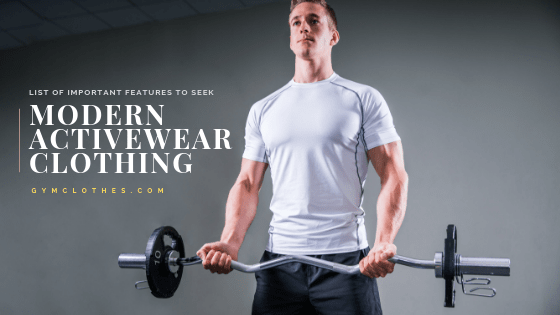 Getting to the gym is the first hurdle that everyone faces. After that comes the effort to put on clothes that really works like magic. With advancement in fitness clothing, people have eventually become a lot more health conscious. Good clothes and confidence are inversely proportional to each other. Hence, no wonder quality fitness wear can really encourage you to achieve your fitness goals.
With changes in the athleisure clothing trend, the basic requirements for men's athletic wear wholesale still remain the same. Fitness gurus generally prefer clothing that'll be not only trendy but performance oriented as well. Hence, feature laden clothing is what people seek when it comes to the best workout apparel.
Anti-Bacterial Properties
Modern workout wear boasts of this special feature which has revolutionized the fitness sphere. The anti-bacterial element is one such aspect that protects the wearer from bacterial infections. Excessive sweating can lead to production of different kinds of infections.
Since people generally wear such clothes for a longer period of time, chances are that they might be affected with it in the long run. Thus, it is important that you select clothing that has a silver film lining which protects the body from such disease causing bacteria.
Thermoregulation
Thermo regulated clothing is a blessing in disguise when it comes to working out in the extreme weather conditions. If you're genuinely dedicated to your fitness regime chances are that you have to workout for the entire year. Hence if you want to protect yourself from the despair of climate induced ill health conditions, it would be advisable to wear thermo regulated clothing.
These clothes are made with technologically advanced fabric that maintains the core body temperature and balances it with the outside weather so that you don't fall sick.
Compression
Compression clothing is not new in the market. But nowadays you can find wholesale clothing for men that has the best compression ability features. If you're associated with high intensity workout regime then it would be advisable to wear clothing with this specific clothing.
Compression apparel works wonders when it comes to protecting the muscles from inflammations or redness. Basically it allows proper blood flow which eventually prevents the production of lactic acid.
Moisture-wicking
Since summer is already here, you'll definitely need to stock up on quality moisture – wicking clothing. You can find an array of such clothing like t-shirts, tanks and even leggings. Clothes with sweat-wicking abilities allows the body to cool down fast by during the exercise. This in turn will not tire you.
Moisture wicking clothing is especially needed if you're working outdoors. This will provide you outmost comfort and support as well.
Stretchable
Clothes with ultra flexible and stretchable ability are great for activities such as yoga or dance. If you're especially associated with hot yoga then it will be advisable to wear moisture-wicking and stretchable fabric. Thus, find the best apparel pieces for yourself with such qualities.
Retailers who want to equip their store with trendy & functional fitness wear, get in touch with a renowned men's clothing wholesaler. All you need to do is browse through the unique collection of clothing that the manufacturer has in store. After selecting the required pieces state the bulk needs to the customer care team. You can even avail discounts on the selected products, hence hurry.
VIDEO :