How Wearing The Right Gear Can Transform Your Workout Routine?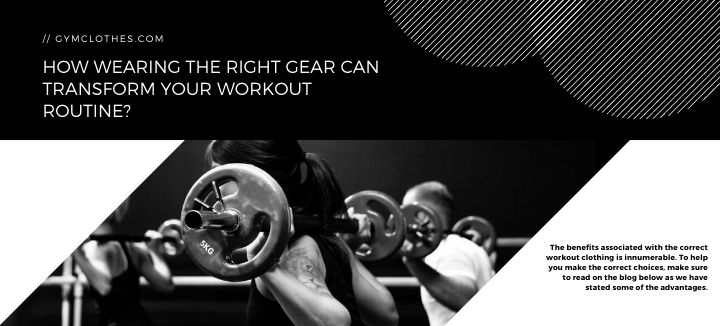 You might derive a guilty pleasure of wearing your favorite old comfy cotton t-shirt while working out although it doesn't do you any good. Instead wearing the correct athletic wear will actually amp up the workout routine, not only make you feel good but look good as well.
Hence, owing to the demands for the same, one of the popular suppliers of wholesale activewear has come up with custom workout shirts that you can have a look through. So, let's find out in the blog below for more!
Range Of Motion
Making sure your active wear fits you well will prevent skin irritation or painful chafing and allow freedom of movement. Expandable fabric such as spandex or Lycra are perfect for workouts that require a wide range of motion and stretching, be it lunges, yoga or swimming.
Sweat-Wicking Ability
Wicking is the ability to divert sweat from your skin and evaporate through the fabric's surface. These will leave you feeling fresh, dry and comfortable during and post-workout. Not only that, these help you stay cooler in the heat of summer and warmer during winter.
Visibility And Safety
This is especially important if you routinely work out before sunrise, at night, or on poorly lit routes. By wearing bright, reflective gear, you will be considerate towards the safety of other road users and yourself. So, the next time you run or cycle at dawn or twilight, remember that it is critical to be seen!
Durability
You don't have to break the bank on a closet full of new stuff but you will have no regrets investing in a few well-selected essentials to start off with. Prices vary greatly according to garment types across brands. Spandex fibers are durable and last longer than conventional sportswear.
Protection From The Elements
When exercising outdoors, make the sun, wind and water work in your favor. Fabrics that are derived from synthetic membranes that coat regular fabrics, making it windproof and waterproof and still allow your skin to breathe. To get some sun protection without special gear, go for clothing with tighter weaves made from synthetic fabrics.
Do you wish to purchase the right workout gear for your store? Get dri-fit shirts wholesale for cool affordable rates from the popular supplier in the industry. All you need to do is look through the collection and drop a mail stating the bulk needs to the help team.