How Many Gym Outfits Do I Need?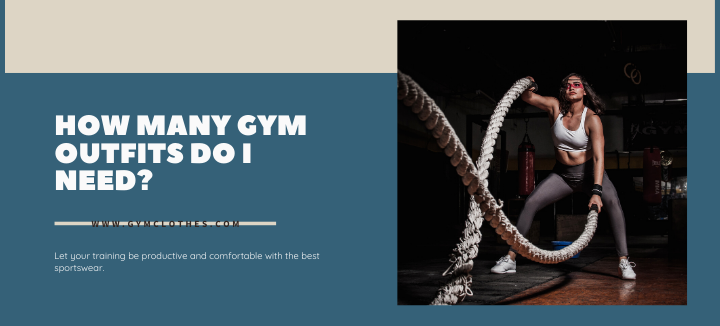 Going to the gym regularly, we can meet different types of people. Some of them change their workout outfits every day, and it seems that they have hundreds of different sports suits. Some people may come to the gym wearing the same clothes all over again.
This often makes us wonder – how many workout clothes sets do we actually need? In this article, you will find an answer.
Gym Shoes
For a golf player, one pair of FootJoy golf shoes is more than enough for a couple of seasons, but for those who go to the gym almost every day, at least two pairs of sneakers are needed. Don't go for the cheapest ones. Invest in good, high-quality running sneakers.
You should also bear in mind the activities you will do before buying gym shoes. Do you need a pair of shoes that provides agility for intensive training? Or maybe, a stable base for weight lifting? Most people choose all-rounder shoes, knowing that they will perform various types of activities.
Here is the list of things your GYM shoes must have:
Strong lateral support.
Cushioning.
Very firm and low profile.
They should be as light as possible.
A flexible forefoot.
Sports Bras
Many women want to save money and use regular bras going to the gym. But they should not do it! Breasts have no muscle. Without proper support during sports activities, their skin gets saggy. A regular bra does not reduce breast movements and should never be worn to the gym. You should wear only a sports bra to make your workout routine safe.
Before deciding how many sports bras you need for a workout, think of how often you go to the gym and how often you do the laundry. One bra is not enough. This item of gym clothing absorbs a lot of sweat, and you should wash it after every training session.
So, if you train two times a week, consider buying two different sports bras. If you go to the gym every day, but do the laundry twice a week, three to five bras will be enough.
Sport Tops
Before buying them, consider what type of tops you need. You can get sleeveless, short, or long-sleeve tops. Usually, people buy a couple of sleeveless sports t-shirts and a long-sleeve one. But everything depends on your preferences and needs. The material also depends on whether you feel more comfortable in synthetic or cotton gym outfits.
Five tops will be also enough if you go to the gym almost every day. Remember that they should be washed after every training too. They also absorb a lot of sweat when you are training.
Also Read : 3 Types Sports Bras That Offers The Best Support!
Bottoms
There are different types of gym bottoms. You should choose the ones that are good for your favorite activities. For very intense activities like running or boxing, you should choose a compression style. They give a lot of support to your muscles and fit like the second skin.
A fitted style is the right choice for yoga or stretching lovers. Choose comfortable, high-quality yoga pants. For weight lifting or hiking, you can choose loose-fit pants.
Consider having up to five gym bottoms. More than this might be too many. If you go to the gym only once a week, you can have only one pair of sport pants. But if you train twice or three times a week, consider buying more gym bottoms.
Socks
For the gym, you will need many pairs of socks. Choose the ones made of cotton, so your feet don't sweat too much. Don't buy very short socks, because they might be very uncomfortable. They should cover your ankles. The best sportswear producers have many types of workout socks for you to choose from, and you should consider getting them at a good sports shop.
Remember to wash your socks after every workout, and not to use your gym socks in everyday life. Because you wash and dry them very often, you may have to get new ones every couple of months.
Many people prefer having up to 7 pairs of gym socks. If you do not train very often, you can buy 3-5 pairs. Up to 3 is not enough unless you train once every one-two weeks.
The Bottom Line
Your workout performance and comfort mainly depend on the gym clothes you choose. Invest in the most comfortable and high-quality sportswear so that you can use it for as long as possible. Choose the best materials, and always consider your needs while purchasing a new set of gym clothes.
Remember to wash your sportswear after every training session at high temperatures, so infections and bacteria have no chance to accumulate. For those who train a couple of times a week, up to five bras, tops, and bottoms are more than enough. When it comes to sports socks, you need many more of them. You will also have to buy new ones more often than other items as they wear off much faster.
Let your training be productive and comfortable with the best sportswear. Don't hesitate to purchase many sets of workout clothes of impeccable quality. You won't regret it!