Hit The Course In Proper Style: Golf Attire Rules For Men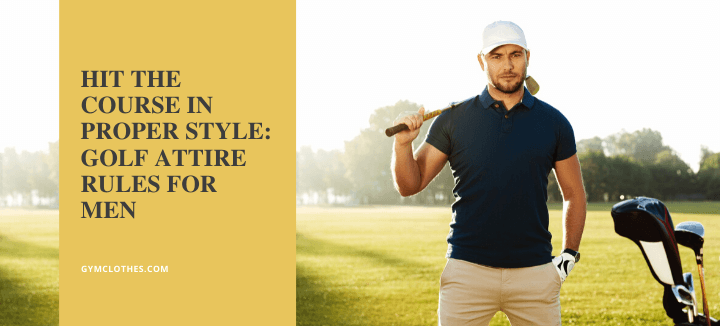 Golf is one of the great games in the world. Thus, it's continued to rise in popularity over the decades. It's not only a game of skill and touch, but it also requires a bit of grace and style.
Is your golf attire on point? If not, don't panic. This article is here to save the day.
You might think it's fine to wear whatever you like during a round of golf. Perhaps you prefer sweat pants and flip flops. If this is your golf style of choice, you'll quickly become unpopular among those who take this beloved game seriously.
Keep reading to learn important tips for showing the world that your golf style is every bit on par with your swing.
Shirts
When it comes to choosing the right shirt to wear during your next round of golf, you definitely need to keep both style and comfort in mind. After all, you can't always predict what Mother Nature will throw at you.
To look your best, wear a collared polo-style top. Cotton, microfiber, and polyester blends will help you stay cool and comfy.
Avoid ill-fitting shirts, and remember that if you can't see your elbow, you'll look sloppy. And be sure to keep your shirt tucked in.
Also, be aware of the dress code for the particular club where you'll be playing. Each club tends to maintain its own set of rules, so be a gracious club member by staying within the style guidelines.
Pants
Now let's talk about pants.
Your choice of bottoms should be made from a material that wicks away moisture and allows your skin to breathe. Avoid materials that restrict movement, because this will get uncomfortable and have a negative impact on the quality of your game.
As far as color choice, you can never go wrong with khaki. But you can also go dark or have some fun with a bold color if you'd like. But keep in mind that if you go with something fun down below, you'll need to choose a neutral top to balance things out.
Shoes
Shoes are also a key style item. After all, you need shoes that look great yet also provide optimal performance, such as Adidas golf shoes.
You're going to be doing a lot of walking, so choose shoes that are extremely comfortable, and enable you to establish a firm stance regardless of the type of conditions you find yourself in.
Avoid wearing spikes, boat shoes, sandals, or boots.
Accessories
And finally, let's discuss accessories.
On warm, sunny days, it's a smart idea to wear a hat or visor and sunglasses. Just avoid something silly like a cowboy hat. Also, don't forget sunblock.
You'd also be wise to wear a belt, which will help make you look as stylish as possible.
And when it comes to socks, be sure to choose a fabric that will wick away moisture so that your feet won't sweat. This could make for a very long day.
The Proper Golf Attire To Help You Look and Feel Your Best
Dressing for golf isn't complicated. The key is to simply choose golf attire that will help you play your best while also respecting the game.
Keep scrolling to see more great athletic fashion tips and advice.