Essential Modern Summer Workout Gear For Women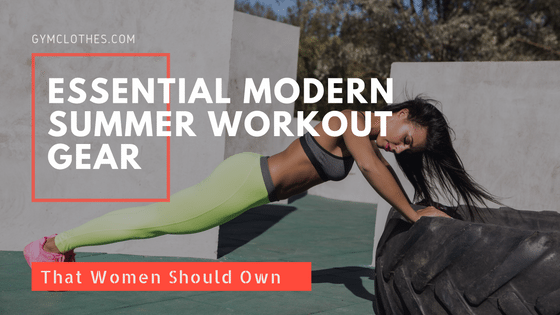 Since the warm weather is here, it's time that we run for our lives, like literally! There's nothing better than a run around the neighborhood during the golden hour wearing your favorite sweats and sneakers. Although a lot of women fail to experience the joy of summer workout. The wrong type of clothing can seriously wreak havoc with a person's fitness regime. Hence, it is really important that you find the best clothing for yourself that will allow you to achieve the benefits of the workout.
Popular wholesale workout clothing manufacturer has also come up with a unique collection of fitness you can have a look at. Thus, read on the blog below to know about the various clothing you should invest in this season.
Light Training Sports Bra
The light training sports bra is made of a dri-fit technology that wicks away the sweat from the body. It keeps you dry and comfortable during extensive workout sessions. The low-cut strap details also makes it easy to wear under t-shirts or in itself. The open back enhances air flow that helps you to work out for a longer period of time.
Tie Back Tank
A loose fitted tie back tank is exactly what you need to wear over a neon colored mesh sports bra. The tank top is available in trendy colors that is made of a highly breathable material.
The layer over does not block air passage, rather it easily complements the breathability aspect of the bra to help you feel comfortable.
Gym Shorts
Shorts are perfect for cycling as well as running during the hot summer months of the year. Depending on the type of activity you can either opt for the compression variations or simply select something in a loose fitted variation.
You can find shorts in a range of designs like sweat resistant pockets that wont mess up with your phone or keys on the go.
High Rise Transform Leggings
Even though these are full length leggings, the super comfortable fabric type makes it easy for you to work out in the summers. These leggings are super stretchable in nature and consists of an anti-microbial inner lining that prevents the growth of disease causing micro-organisms.
Short Sleeved Breathable Tee
A short sleeved breathable tee is exactly what you need to nail the HIIT session at the gym. Even if you're working outside for longer period of time, this short sleeved tee will help you to avail the benefits of a breathable clothing with thermoregulation power.
Business owners who want to include quality wholesale gym clothes in their store can get in touch with one of the popular wholesale athletic wear manufacturer. All you need to do is have a look through the vast collection of clothing that the activewear manufacturer has in store. After selecting the required pieces state the bulk needs to the help team.