7 Ways To Style Your Bike Shorts This Spring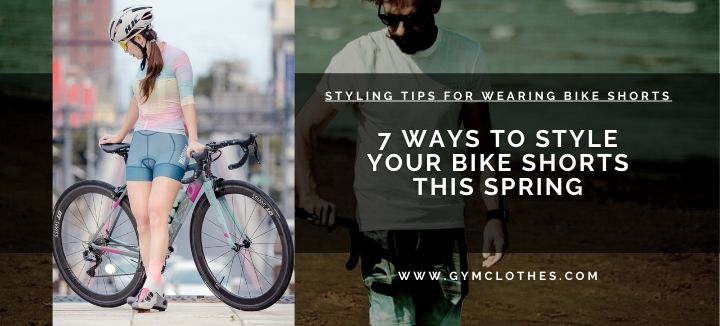 The slowly out of fashion bike shorts have re-emerged as a suave activewear item for your gym wear and at home wardrobe staple. Give this smart and popular attire a spring refresh by following these fashion techniques. As a business owner in search of stylish activewear supply, you must avail contact of an acknowledged fitness clothing manufacturer as soon as possible.
1) Keep It Motion-Friendly
Bike shorts used to be a cool and functional outfit for rigorous exercising. Keeping its design purpose in mind, you can sport this activewear fashionably during spring. Pair your functional bike shorts with sneakers and a light sweater to feel pleasant as you are on the move. You can go with a same color palette or mix minimal variations to display an elevated look in this practical fitnesswear.
2) Wear Less
Less is actually more when it comes to rocking your bike shorts on a warmish spring evening. You can try out tiny tops, textured details and subtly scalloped hems to be a class apart from what your usual activewear look was.
3) Blazer Magic
The oversized blazer has pleased many fitness-conscious fashionistas as it highlights a fabulous stay-at-home relaxed look. Layer a cool blazer in a pleasant shade over your sporty bike shorts to create an awesome outfit pairing. Such a match can definitely suit the trendy concept of business casual.
4) Add A Little Denim
Denim jackets look rocking when worn during all seasons. You can definitely trust this classic piece of outerwear to complement your bike shorts to re-iterate casual and effortless style vibes.
5) Sophisticated Color-Blocking
Make your athleisure wear more appealing by adding well-coordinated hues to your attire. A blue crop top over your green women bike shorts is an oh-so vibrant match that shows your tasteful fashion flavor.
6) As Part Of The Unitard
Unitard being the latest trend of the season deserves recognition for allowing you to pull off a stylish look with a fraction of effort. Let your bike shorts live within this item as you sport it with chunky sneakers for fitness pro yet chirpy fashionista look.
7) Mix And Match
A dashing cropped jacket over the waistline above your functional shorts can create a stark comparison between both pieces of the outfit. You can wear with an oversized sweatshirt too to enhance the compare and contrast for a sensational look.
Being an updated private label business owner you must get in touch with the best among private label fitness apparel manufacturers to spike up your fitnesswear collection. Trendy bike shorts are sure to be part of the massive catalog of such a well-placed activewear manufacturing hub.