5 Women's Activewear Trends Reigning Supreme This Summer 2018!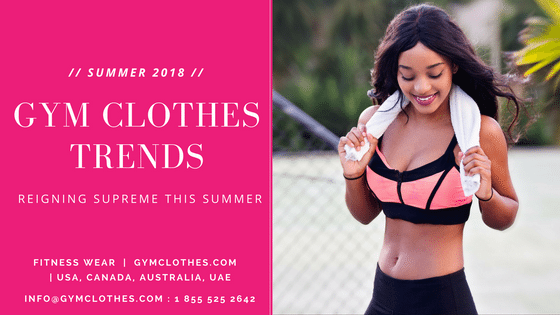 Gym clothes have been making the rounds in fashion circuits for a few years now and like very other fashion, it keeps changing as well. So, we thought that we should help out fellow ladies who like working out and keeping it stylish, by listing the top gym and activewear trends this year.
This blog has brought the most unique trends this season when it comes to gym clothes and each of them have a distinctly different flavor that is going to completely revamp your gym wardrobe. Now, let's take a look at what these trends are that wholesale workout clothing manufacturers are after –
1. Look Like A Diva With Full Sleeve Crop Tops
If you want to look like a diva and yet keep the activewear style in place, then full sleeve crop tops are definitely what you need. Available in all sorts of colors and sporting stripes, these gym apparels are an extremely comfortable gym top wear alternative and totally give your fitness wardrobe an instant makeover. Pair it up with black leggings when you workout or with palazzo trousers when you are out on a stroll, and lady style will never leave your side again, as more heads turn around to appreciate the massive style statement you have put forward.
2. Go Robotic With Metallic
Ever really wanted to go robotic? Well, with the help of the metallic trend in workout clothing, you can finally get a taste of it. From tops to leggings and even sports bra, the metallic color trends end up giving a glossy finish to activewear clothing that makes it look chrome plated, gold plated, and silver plated. While it might be a little too adventurous for some people, the robotic metallic trend is definitely a 10 on 10 when it comes to creating intrigue and being unique, and if you identify those two qualities with yourself, then this is what you need.
3. Branded Gym Underwear Straps Are The Thing To Flaunt
Wholesale gym clothing suppliers are stacking up their branded workout clothes that have the names of the brand on the elasticated bands – from waistband to racerback bra bands. This trend can also be carried outdoors with a little bit of layering provided by mesh shrugs or sun dresses – and it's a total winner.
4. Get Working With Color Blocking In Gym Clothes
Color blocking is in this season and its working for fitness clothing as well – try color block leggings or tennis frocks and summer will have a new impression on your wardrobe all over again. One of the main reasons why color blocking has gained so much popularity, is because it breathes new life to dull neutral colored activewear clothing and no one likes that happening for too long. So, all the neon stripes and color patchwork you see on your workout leggings are there because of the trend – and frankly, we think you should be thankful for it.
5. Meshwork Is The It
If you are seeing more and more paneling in the gym clothing racks of wholesale blank fitness apparel retailers, then you are being bombarded by the mesh activewear trend. While the primary cause for the rise of this style was because of the ventilation that every workout must have, it has also gained new ground because of its stylish look. Now, almost every leggings has a little bit of black mesh on it, and honestly no one is complaining!
These are the latest trends in gym clothing and women around the world cannot have enough of it – and if you feel that your workout wardrobe is missing it, then you should definitely SHOP TO INCLUDE.
AUDIO VERSION :