3 Ways To Make Your Private Label Clothing Unique!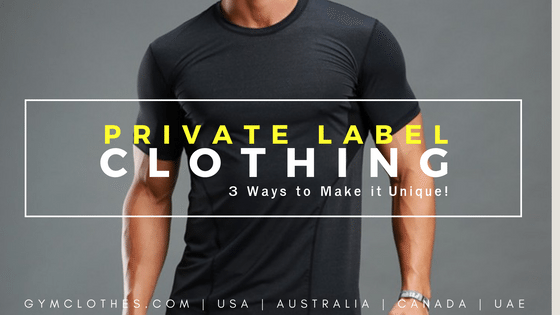 Owning a private label clothing brand is a responsibility in itself and making sure that it does well is a pressure that a lot of new brands succumb to. However, things are not as tough as they seem if you get the basics right and that is what we are going to try and do.
So, what are the 3 ways in which your private label activewear can look and feel edgy over your contemporaries. Want to find out? Let's take a look –
1. Fusion Is The Way To Go
Just focusing on activewear athleisure clothing is not going to cut it – make sure that you mix it up with some outerwear as well. In recent times, the tracksuit has gained much leverage as an outerwear apparel and been given many looks by celebs and brands alike. Take your inspiration from such cases and do right by your private label brand.
Don't be afraid to include unlikely colors and pant styles, because they are going to work well for you, if you make them look good!
2. Create, Customize And Improvise
Private label clothing is all about what you can make it, rather than what it is. Ask your private label fitness apparel manufacturers to implement your style and trend inputs to your bulk orders and see the growth in your sales figures.
From working on colors and branding, to improvising on the overall style and design, there are tons of stuff that you can do to make yours different and unique to everyone else's.
3. Celeb Inspired
Everyone of us wants to become like someone we adore, and in most cases that is how we want to style ourselves. This is exactly what happens when you have celeb inspired private label clothes – it appeals to a larger number of people and that inevitably helps you sell a lot better.
For example, getting celeb inspired private label leggings is going to connect a lot more to people and is less work on your part. Why? Firstly, because you do not really have to think about what kind of designs to go with, because it is already a statement by the celebrity him or herself!
And secondly, because the design kind of markets itself and there is no need to go out of your way to announce the value of the product.
Now that you know the 3 principles to adhere to when it comes to private label clothing, what are you still waiting for? Start now and get in touch with a good manufacturer to get the best collection!
AUDIO VERSION :