Why Private Label Gym Clothes Is So Popular?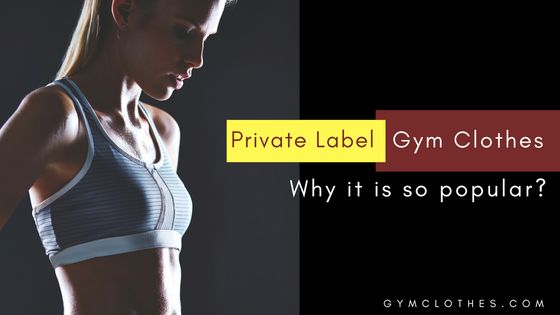 The popularity of athleisure clothes has increased many folds over the past few years, and private label fitness clothing is enjoying a major chunk of this attention. But what makes this specific sect of fitness clothing so much more attractive than the rest?
In this blog, we are look into some of the reasons as to what makes private label activewear so coveted amongst them all. Want to find out? Let's take a look –
1. It Provides A Fresh Outlook
Regular activewear is just for utility; sure, there are good designs and color patterns, but it's really not something that stands out. However, private label fitness or gym clothing is a fresher approach. New designers are fusing latest trends in athleisure with other style trends and the results are just fabulous.
Don't believe us? Just take the tracksuit for instance – private label designers and manufacturers have completely transformed it and that has become iconic in every way. the playfulness of colors, the different designs and patterns, matched with bold styling and cuts – that is what private label offers over other forms of fitness wear!
2. The Exclusive Factor
One of the best things about private label fitness apparel manufacturers and designers is the amount of exclusivity they bring to the whole deal. Every product is made for the specific label and has a very limited and exclusive number of productions, if at all. This attracts people – because in our heart of hearts, we all like to unique, is it not?
This is what works very well for private label brands and people are ready to spend the big bucks to make sure that they have what others do not!
3. Presentation Makes A Difference
There is something about a brand that makes us want to associate with it even more and that is what makes private label clothing manufacturers USA be the top dog in the athletic wear food chain. These brands make each of their products look good – and we are not talking about the kind of good you find in Walmart or Target, rather the type you see on the covers of fashion magazines.
Then why would people not want to wear such things? These are the 3 reasons why private label brands have become so famous in fitness. In fact, if you too are looking to buy something new, then get set and buy something with some panache now!
AUDIO VERSION