Why Is It Important To Wear Proper Attire For Gymnastics?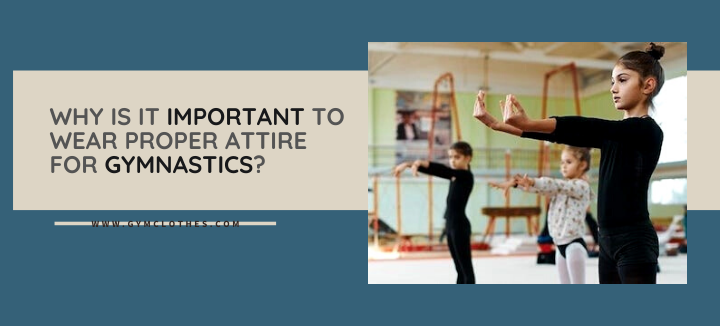 Gymnastics is the combination of skills and dedication that requires proper movement on a variety of pieces of equipment like rings, high bars, parallel bars, and pommel horse. These swings and movements require proper clothes for better safety and maximum ease.
Gymnasts cannot wear just anything during their classes, practice, and competition. They need proper clothing to perform their art. Though what they wear varies with their training and competitions.
The right clothing allows gymnasts to perform at their full range, makes it possible for judges to see the body in action, and also helps to decrease the risk of injury.
Clothing not snug to the body could interfere in the performance of a gymnast, and they could face some real damage or a life-long health injury.
What Is The Perfect Dressing For A Gymnast?
Gymnasts wear leotards during their training classes, practice sessions, and competitions. A leotard is a one-piece garment of stretchy material that is tight-fitting, and it covers the body from shoulders to legs.
Proper attire for gymnasts is called a singlet or leotard with sleeves or sleeveless having cuts at the groin area like a bikini. This cut differentiates a leotard from a bikini as it is in the shape of shorts.
In classes or training sessions, gymnasts wear this leotard with or without tight fitted shorts over the top.
While in competitions, gymnasts have to wear singlet or leotard only. This rule of wearing a leotard only ensures the absence of hanging adornments to avoid the risk of falling. Most importantly, if you want to know what to wear during gymnastics, your consideration for choosing the right outfit will be highly dependent on what your event purpose is.
Dance Leotards & Gymnastic Leotards:
Dancers and Gymnasts always remain very particular about what they have to wear during learning and practice classes. Both the leotards for dancing and gymnastics look very similar but have a little bit different in design, form, fabric, and colors.
The attire for both of these sports is similar, and it is so tricky to find the difference between a dancing leotard and a Gymnastic leotard:
A dance leotard is made of cotton or nylon while a Gymnastic leotard can be composed of spandex, nylon, polyester, or velvet.
Leotards for Gymnastic have thick tank straps, but dance leotards have tank-style or fashioned spaghetti straps with a swoop neck.
For formal ballet studios, students wear white, black, or pink leotards with a skirt or tutu attached, and with frills and ruffles, it looks more adorned. A Gymnastic leotard for the competition is glittery, bright, and bejeweled with rhinestones. It is designed with more patterns than a dance leotard.
Leotard – perfect attire for Gymnasts:
Leotard is a perfect outfit specifically designed to provide comfort, confidence, and support to the Gymnasts while practicing a routine or competition. Here are a few of the important reasons to wear a leotard during Gymnastic classes:
Gymnasts need an outfit that must be fit to wear. The loose outfit might get in the way and create a hurdle to complete a move.
Outfit for gymnasts needs to be lightweight that can move and adjust with their body during practice and competition.
Loose clothing may affect balancing exercise; especially children cannot maintain their balance in an improper outfit. Gymnast kid's safety is another factor to use leotard during practice to prevent them from tripping.
Gymnasts have a beautifully groomed and well-maintained body that must be visible during moves for a better impact of their stunts. Leotard is a fashionable kind of attire that not only provides ease during Gymnastic moves, but also provides a stylish, sophisticated, and impressive appearance.
Wearing a leotard during competitions also affects how a gymnast scores. It also makes it easy for the judges to observe and rate the routine of players.
In Gymnastics, many routines call for difficult moves. Performing those moves could make Gymnasts too hot while practicing/performing. Leotard is specially made from a breathable material that does not stick to the body and allows the Gymnast body to breathe easily.
How To Choose The Right Leotard?
Choosing the right leotard depends on beauty, personal taste, and combining function. Choosing a comfortable and stylish leotard for classes/ practice sessions, every level and age from a child to recreational Gymnast, and serious competitor it is essential to check every single detail of it.
A comfortable leotard must be a balance between style and accurate fitting but not too tight.
A Gymnast must not restrict their moves due to tight-fitting or exposing issues. Right leotard makes the Gymnast confident and safe with every movement. Body style, perfect size, and fabric quality all contribute a lot in making a leotard right for Gymnastic classes and competitions.
Why Should We Choose Gymnastics?
''Gymnastics teaches you to make focus on the outcome, not the obstacles and it teaches you the strength to hold on and the courage to let go.''
Gymnastic is not one of the best exercises only that provide overall health and wellness, but it is a way of life that teaches several skills to make an adult successful, such as; Patient, resilience, determination, hard work, high pain threshold, courage, self-efficacy, motivation, confidence, and action-oriented goal setting. Gymnasts are smart and successful adults having muscles, healthy lifestyle choices, and improved flexibility. Their upbeat, confident personality helps them to make smart and on-time decisions.
Gymnastics is a way to train your mind to remain stress-free and feel happy. Its consistent and intense training program boosts the emotional and cognitive state of mind to build the following skills:
Determination
Self-morale
Better communication skills
It is crucial to participate in gymnastics from a younger age. It fights a variety of immune and metabolic disorders. By releasing antioxidant enzymes in the body and lowering down the blood pressure is helpful to improve body strength and flexibility. Gymnastics also helps to fight depression, aids weight loss and improves the quality of sleep most effectively.
Conclusion:
When it comes to Gymnastic wears, the leotard is the best available option to perform gymnastic moves with ease. Ill-fitting and baggy clothes not only make a Gymnast trio on their clothing but shake confidence and may restrict the body to perform smooth and perfect moves.
Good luck!