Why Is Design Important In Sportswear?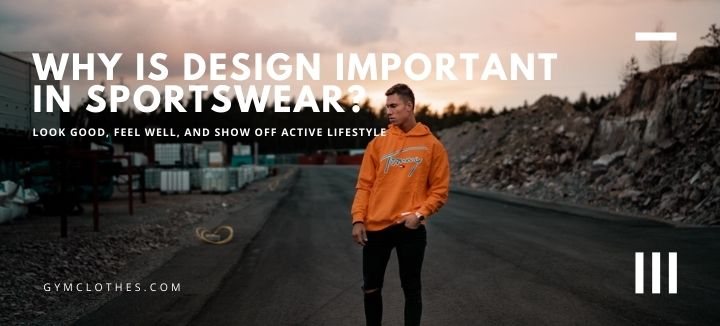 Sportswear is a thriving industry right now, with alternatives for everyone – cheap, high priced, all-black, neon-colored, stylish, minimal, you name it. But what is the most critical aspect of design? Here's what we discovered.
Versatility
Thinking 'multipurpose' is crucial in sportswear manufacturers' opinion when creating sportswear – for customers, it is convenient if the garments are multifunctional and adaptable so that they may be used for numerous purposes other than exercising. This is one of the reasons why the sportswear business is now thriving: athletic pieces have lately become increasingly popular as trendy apparel, and for many individuals, particularly those who live and breathe sports, athletic gear frequently doubles as casual daywear. These days, you may see nice running shoes and training tights mixed in with stylish bomber jackets and expensive purses. And we completely understand. If you like the appearance and feel of your workout gear, why not wear it when doing errands, catching up with a buddy, or going shopping?
Looks
Yes, appearances do matter! If you spend a lot of time at the gym or playing sports, you may also spend those moments every week dressed nicely. Furthermore, nice-looking clothing might motivate you to go further, boost your confidence, and provide extra energy and inspiration. One of the most apparent trends in the sportswear industry recently has been the employment of exceptionally bright, even neon colors many people who exclusively wear neutral colors during the day prefer colorful sports gear. Indeed, bright colors may be viewed as providing an extra boost to performance or workout: even those who favor simple black training clothes may choose to add some color to their wardrobe by wearing colorful shoes. Then there are logos, which are a current noticeable trend in sportswear: utilizing large, firm logos. However, vibrant colors and eye-catching logos aren't for everyone. Those seeking a more subtle yet fashionable take on sportswear may be more interested in embroidered panels, mesh accents, ergonomic seams, reflective stripes, or elegant zipper accents. To summarize, there is certainly no lack of stylistic alternatives!
Business owners and retailers, if you are looking to add wholesale tracksuits and more in unique designs to your retail store, contact a manufacturer right now. You can even share your own ideas.