The Three Style Ideas to Rock the Simple Aqua Blue Camisole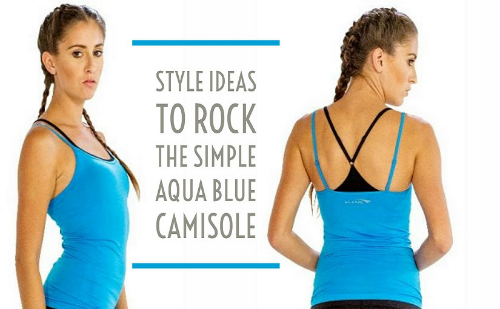 Cami tops are trending the fashion scenario and you might think, duh, how is it possible! But this versatile piece has so much to give and help you in getting clad in the best silhouettes for the different occasions, from fiercely formal to predominantly casual. Do not hide it under your top and over your bra, rather flaunt it for a very sleek, sexy and chic ensemble option. What about the aqua blue camisole which would help you to team up the pencil skirt or the white trousers? A subdued and soothing color as aqua blue is, this clothing piece can come to your rescue for different reasons.
Delivering a number of silhouettes with a contemporary edge is completely possible with the aqua blue camisole. A lightened up version of a simple and classic tee, the cami top has been worn by the celebs and models too for on screen and off duty looks.
Thus, here are three important style ideas to rock this cami top.
Strict Office Style Credentials
To complement the office dress code, you need to layer the cami top under something. For the polished look, you can wear it under the sleeveless silk jacket or the refined formal blazer. Wear this with tailored trousers or may be with a sleek and skin fit pencil skirt for the most posh silhouette. Also, add the stilettoes or heel ballerina footwear for the finishing touch.
Weekend Glam for Parties
Team up the sleek and lean looking aqua cami top with the printed pleated long skirt or palazzos. Add the statement neckpiece or the choker necklace to this, with fit heels to complete the attire. Do not layer this look, as parties are the best possible way to indulge into some perfect and confident skin show. The cami top will spruce up your hotness instantly when worn with the right chunky accessories.
Sunday Brunch Scenes
Tired of wearing the same old outfits for the Sunday brunch treats? Lets make your Sunday look a lot for fun and intriguing! Strike the perfect poise between sweet teen vibe with eye-catching boho edge when the aqua camisole top is worn with the palazzos, or the wide legged denim pant, and layered with the printed kimono or the oversized baddie denim jacket. Add the statement jewelries and sling back with flat footwear or heels for the most ravishing attire.