Save vs. Splurge: Which Fitness Gear Is Worth Investing In?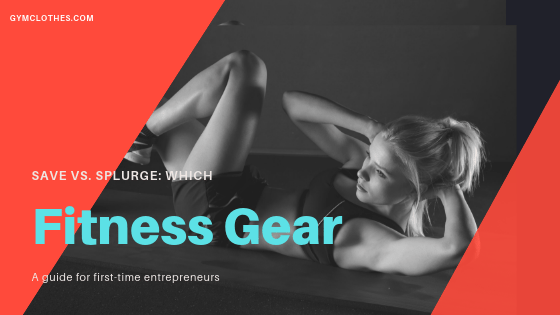 If you have recently joined the gym, you might be wondering what kind of fitness gear you should be investing in for the most comfortable workout. There are so many options in the athletic wear section that it can be hard to decide what to go for. If you literally go out and buy one of everything you see, it can get pretty expensive. We have narrowed down some items you should definitely not splurge on, and some you should.
Sports Bra: Splurge
A sports bra is a must in any workout if you want comfort and support. The last thing you want to be worried about in the middle of a class is how your bra is holding up! And rather than having just one that you wash after every workout, invest in a few high-quality sports bras for the more intense workouts and grab another few in the sale for the less strenuous exercises.
Tank Tops/T-shirts: Save
T-shirts and tank tops are found in pretty much any clothing store, so go for a few basics, preferably in nylon or polyester. There is no point in splurging on designer t-shirts because they just don't last long enough.
Leggings: Splurge
A good pair of quality workout leggings will stand the test of time. When you think about how much you stretch and move around, it is worth going for something made of high-quality materials with sweat wicking properties. If you spend a little extra, you will find that they will also help to keep you cool while fitting snug to your body shape.
Running Shoes: Splurge
A good pair of running shoes is important for a safe and comfortable workout. You should spare no expense when it comes to your footwear, and if you can, visit a sports store that offers a gait analysis service to determine which type will be right for you. Some shoes are designed for jumping and lateral movement whereas others are specifically for weight training, so always seek help from an in-store advisor.
Yoga Mat: Save
No matter how many different versions you will find, all yoga mats do pretty much the same thing. While a designer mat can cost as much as $100, save your money and go for a generic version. Your hard-earned wages are much better spent on other more important gear.
Gym Bag: Splurge
Your gym bag will go through a lot. It will carry all your gym gear, sweaty towels, dirty sneakers, and it will need to hold up in adverse weather on your way to the gym. For this reason, it is best to splurge on a high-quality bag that will last. Find one in a long-lasting material that is also lightweight to avoid extra strain when carrying it around.
Socks: Splurge or Save?
If you are a runner, invest in a pair of sweat-wicking cushioned socks to avoid blisters. Steer clear from all-cotton as the friction of the material is likely to cause blisters and it retains more moisture. If you don't tend to do much running, save on socks. Any run-of- the-mill athletic brand should do the trick for your typical workout.
Now that you know where to invest your money, you should find it that little bit easier to narrow down your options.