Pride-Themed Outfits To Show Off Your Sassy Style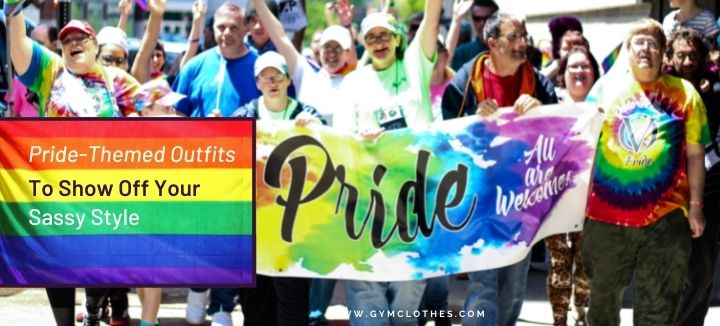 June, acknowledged globally as the Pride Month, is about celebrating LGBTQ+ community and, people with different preferences, at large! Let's all be together, hand in hand, maximize the meaning of inclusivity keeping aside the talks about gender preference, social movements and more. This pandemic has made us realize the shift from "I" to "We" and how together, emphasizing on solidarity we can march ahead in fighting unseen battles. We have seen the fragility of human lives and the cauldron of repressed emotions only stretches the compassionate hand to any living soul irrespective of their sexual choices to live a life based on the custom definition that one chooses to frame for their own life. Albeit, LGBTQ+ needs social protection but more warm smiles, bear hugs and the injection of confidence that they are not going to be cornered, marginalized but will be made to live the way they like based on their own their preferences with no brutal attacks, personal harassments coming their way. And why June, let this theme of solidarity spread and get injected in all the months of a year.
Since everybody is in the party mood this June and want to celebrate and honor the community, we have come up with a collection of outfit ideas that will help you show off your unapologetic pride themed sartorial aesthetic. If you are interested in dressing up for the occasion and show your support by sporting outfits in the gorgeous rainbow hues, then you are at the right place.
Although with the onset of the pandemic, there may not be big parades around, but this should not stop you from attending the virtual events, parties and seminars where people are supported for who they are! Since the past year, we have been through a global crisis, therefore incorporating bright hues in your wardrobe will definitely lift up your mood and your friends in the LGBTQ+ community will truly appreciate it.
Simple Yet Bold
If you love to dress up in effortless clothing pieces, then a basic T-shirt is all you need to make a bold statement. Look for t-shirts or tanks with quotes embossed like "come out and party" or "let's get one thing straight—I'm not". These make for clever jibes that shine with love. You can also pair your tee with a rainbow hat or a rainbow necklace which is a great way to take an outfit from basic to bold.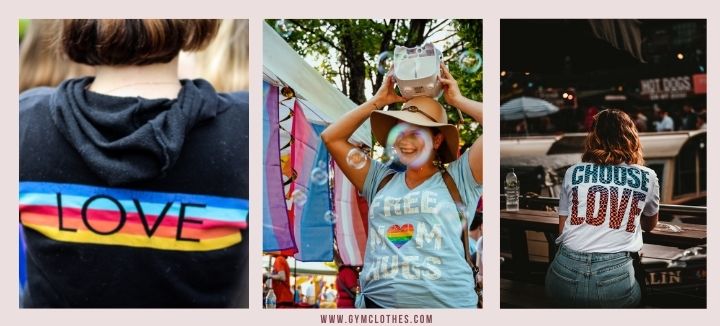 Rainbow Romper
If you are looking for that one statement pieces that will be your go to OOTD for the virtual parade, then wear a rainbow themed romper. With this stylish romper, you've got an outfit of the month. A single-piece romper is anyway a summertime fashion staple. However, when you pair it with a rainbow pattern, this turns into a one-and-done solution of what to wear for pride 2021. For the accessories, add a rainbow bandana as a headband to complete your on-trend look.
Athleisure Colors
Are you downright obsessed with athleisure apparel pieces? Then a pair of rainbow striped biker shorts and a pastel hued bra top will be the best outfit option for you. Put on the coordinating sports bra, and wear this set on its own if it's an especially hot day. For the shoes, you can stick to rainbow colored converse because during summer, too many colors can never be enough.
Pastel Core
Is your personal style a mix of cottage core and 90's chic? Then a pastel rainbow dress will be the perfect outfit for the month of LGBTQ+ love. This way you can be as colorful as everyone else, but just in a softer, more subdued way. Look for dainty accessories like floral necklaces which symbolizes peace, love and harmony.
Sexy Slip
Does a silk slip midi dress sound exciting to you? Well, you can stand out as the ultimate sexy pride lover this month with this amazing dress. Wear this dress with strappy glossy heels or some simple white sneakers to really let the outfit speak for itself.
Cozy Colors
Does a mini sweater dress sound cozy to you? Then get yourself one of these beauties which can function all-year round, but shines extra bright during Pride Month. As we will celebrate pride in air-conditioned-on-blast rooms, virtually it is, make sure you have one of these in your closet to throw on.
Hopefully, the aforesaid ideas will help you choose the right outfit to show off your love for the friends in the community. There is no great love than participating for the cause and speaking out for their rights. This year, let's not just celebrate the Pride month but the theme of togetherness and solidarity that bind all humans together!